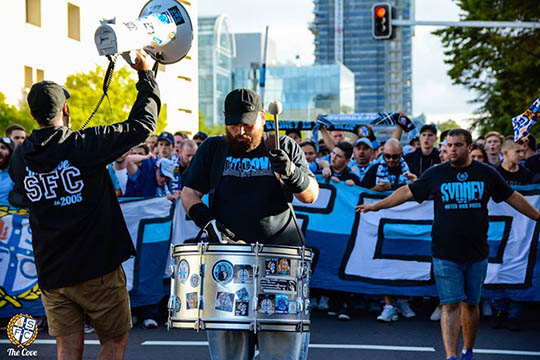 The Australian Football league was hit by Covid just like any other league around the world. So, 2019/2020 was cut short and ultimately won by Sydney FC. This season started in December as a winter start and the reigning champions are languishing in 8th although they have a game in hand which if they win could move them up into the top 3, depending on how other results go.
The Cove
But check out some of the Tifo artwork their ultras have come up with. The ultras at Sydney FC's call themselves "The Cove" and are an official Aussie football team and play under Australian FIFA rules.
This is the last supper of the past and present club greats; religious themes seem to be common with their efforts but the artistry is great.
These Tifos have been a more placid way of expressing their passion and loyalty to the club of late after a severe crackdown by the Australian Government in 2016 when different ultras were getting more and more violent trying to outdo each other to become the most notorious in the country.
The FA and Government imposed severe bans for anyone caught lighting flares or fighting and clubs had points deducted. So, the years since have seen less activity but nonetheless, a fervent following of their clubs remain and The Cove is still active.
A Common Topic Football News From Around the World
In football news around the world, we have seen other FA associations having to deal with flares at games. In the past these flares have momentarily paused football games as the stewards have to clear the pitch of flares for player safety. Such incidents are often reported on sites like 101greatgoals sports news while there are always reports of stoppages because of fans running across the pitch across the European football leagues and occasionally in major UEFA Champions League games!
However, when it comes to football, the real news in transfer talk, surprise defeats, and managers either sacked, under the gun, or newly appointed. And of course 9 goal thrillers as we saw in the Western United match versus Perth Glory!
9 Goal Thriller
In the most exciting news on the pitch, Western United scored a competition record 8 goals in the 2nd half of their match with Perth Glory to win it 5-4. There was only 1 goal in the 1st half for United through Victor Sanchez and it seemed like they would play out a pretty routine win over the Perth team but the 2nd half had a very entertaining 8 goal.
First 2 from Perth to take the lead scored by Carlo Armiento and Bruno Fornaroli. A sub Dylan Pierias came on after 60 minutes and scored 2 in 4 minutes to put United back in the lead at 3-2. Perth got one back to level at 3-3 with a Nicholas D'Agostino header. United went ahead again with Tomoki Imai then Carlo Armiento who had a great game for Perth after coming on as a substitute scored again (2 goals and 1 assist for him) pegging them back to 4-4.
It looked like it was heading for a well-deserved draw, both sides having gone all-out attack in a game more like basketball than football. And then in the 84th minute Steven Lustica latched onto a loose ball and broke Perth hearts with the winner. It was a deflected low shot after collecting the ball from a corner that wasn't cleared properly and Perth will be disappointed about this lapse that led to the winning goal.
Take a look at Melbourne's first match of the season and their Tifo tributes to a member of their ultras "M3" Benjamin Diaz who died at 27.
Next Up for Western United.
Western United face Melbourne Victory on the 30th January in their next match at AAMI Park. If they win that they could climb above Melbourne and as high as 4th in the league.