Hardbass - Crazy dancing in public places.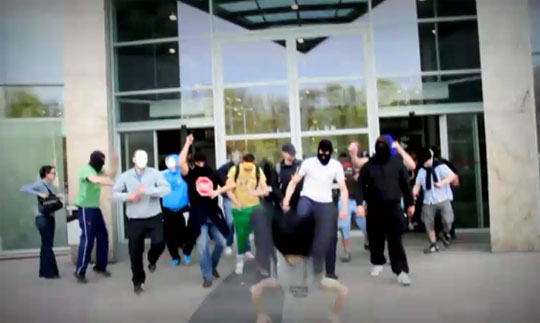 This so called Hardbass is a funny dance done by a group of young people in the middle of some public place. The movement started in Ukraine and Russia, but is already spreed to other countries like Hungary, Serbia, Czech, Slovakia and many more.
Hardbass is also rapidly spread among Ultras in Eastern Europe. At Youtube you can now find plenty of "Hardbass" movies done by different groups of Ultras/Hools. The rules are easy, gather together some friends and do some funny dancing in middle of a street or any other public place. Mix it up with some flares and smoke to make it even better.
Brastislava (Slovakia)


Krivoy Rog (Ukraine)
Korona Kielce (Poland)
LKS Lodz (Poland)
Debrecen (Hungary)
Prague (Czech Republic)


Vilnius (Lithuania)
Lyon (France)
Many more Hardbass videos can be seen on our forum. CLICK HERE