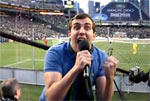 During this boring days while most of us still wait for season to start, lets have fun watching some funny and crazy football related videos :)
1. Fight and win!!!!
This video of Seattle Sounders (USA) supporters became very popular on our forum in short time. Check why :)


2. Animals pitch invasions
All kind of animals doing pitch invasion! Our favorite is at 1:54! WTF?? :D


Check also Crazy things thrown on the pitch!
3. Verona dude
Last month we had report from Hellas Verona - Salarnitana play offs matches. Verona have been promoted to Seria B and this video is from second match in Salerno. Funny part at 0.38min. Again we must say WTF!? xD
4. Clumsy cop
Rad fans in corteo to match against Crvena Zvezda. Watch at 1:37 :D
5. Fun with TV reporter
Delije (Crvena Zvezda fans) in Czech Republic (2009) having fun with TV reporter :)


So which of these 5 videos you like most? Write in comments!
Zaklady na fortuna: kod promocyjny fortuna
Watch also: Funny Videos - Part 2 and Part 3