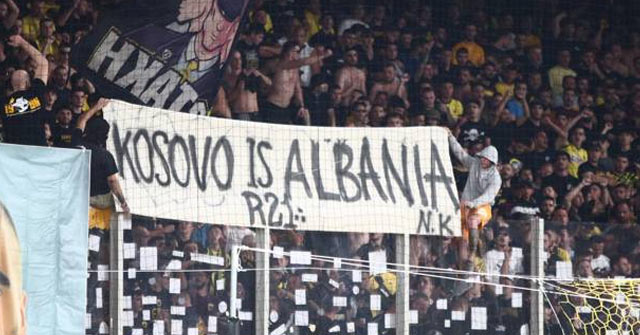 Greece: Reactions and bans
Original 21 and AEK FC have distanced themselves from the banner that read "Kosovo is Albania," which was displayed during the Europa League match between AEK and Ajax Amsterdam on October 5th.
In official statements released on their respective channels, they announced the following:
Original 21:
"As Original 21, we unequivocally declare that the display of a nationalist banner in our section does not reflect the positions and views of Original 21. Our group's deep historical roots and our unwavering stance against all forms of fascism make this abundantly clear.
We condemn this banner and offer our apologies to AEK's organization for any disruption it may have caused, especially since it was created by one of our members.
We declare that we will take stringent measures to ensure that such an incident never occurs again."
AEK FC:
"AEK expresses its strong disapproval and unequivocally condemns the brief appearance of the aforementioned banner within our stadium. This banner has no connection whatsoever to the historical origins of our club or its principles since its establishment."
As a result of AEK FC's investigations, they have identified and permanently banned (for life) two supporters from attending matches at the stadium.