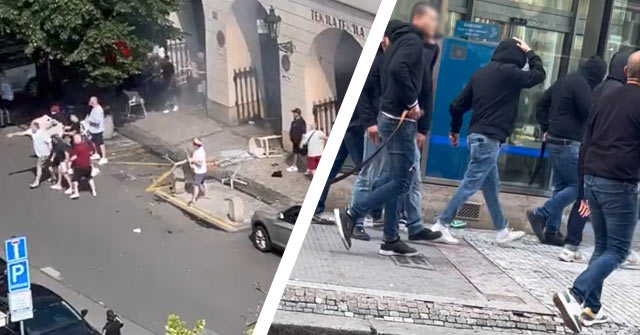 UECL: Fight in Prague
A fight broke out in Prague before the Conference League final.
Videos captured a large group of Fiorentina fans attacking a pub where West Ham supporters were gathered. The footage reveals the use of various objects, including flares, bottles, and chairs during the brawl. In response to the attack, West Ham supporters, including English fans from nearby pubs, swiftly retaliated.
Eventually, Fiorentina fans decided they had endured enough and retreated down the street, being closely pursued by their English counterparts.
However, the disturbance did not end there. Moments later, Czech police, including undercover officers, were observed employing force to apprehend over 15 reported Fiorentina supporters. An official police statement regarding the incident also mentioned that three West Ham supporters sustained minor injuries.
Videos:
07.06.2023, Prague🇨🇿, Fiorentina🇮🇹 attacked pub West Ham🏴󠁧󠁢󠁥󠁮󠁧󠁿 https://t.co/Fjy3xrlEmQ pic.twitter.com/GMTucBx1c3

— Hooligans.cz Official (@hooliganscz1999) June 7, 2023
07.06.2023, Prague🇨🇿, Fiorentina🇮🇹 attacked pub West Ham🏴󠁧󠁢󠁥󠁮󠁧󠁿 https://t.co/Fjy3xrlEmQ pic.twitter.com/yJYj2l18dM

— Hooligans.cz Official (@hooliganscz1999) June 7, 2023
07.06.2023, Prague🇨🇿, Fiorentina🇮🇹 attacked pub West Ham🏴󠁧󠁢󠁥󠁮󠁧󠁿 https://t.co/Fjy3xrlEmQ pic.twitter.com/GRqQhNyjOK

— Hooligans.cz Official (@hooliganscz1999) June 7, 2023
07.06.2023, Prague🇨🇿, Fiorentina🇮🇹 attacked pub West Ham🏴󠁧󠁢󠁥󠁮󠁧󠁿 https://t.co/Fjy3xrlEmQ pic.twitter.com/s81rnUauka

— Hooligans.cz Official (@hooliganscz1999) June 7, 2023
07.06.2023, Prague🇨🇿, Fiorentina🇮🇹 attacked pub West Ham🏴󠁧󠁢󠁥󠁮󠁧󠁿 several Fiorentina lads were arrested https://t.co/Fjy3xrlEmQ pic.twitter.com/ogzkUL9MCi

— Hooligans.cz Official (@hooliganscz1999) June 7, 2023