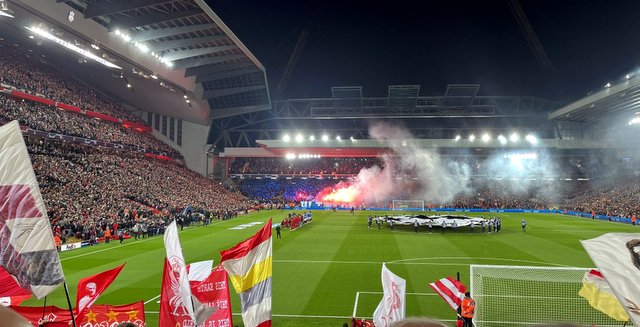 The Premier League has some fierce stadiums. But which ones are the most notorious? Read on for more.
The Premier League is the promised for players, coaches, and owners. It's not a utopia, but it brings great riches for careers and bank accounts. Audiences know the spectacle. They add to it. This is true of those at home, tweeting to the machine, posting Facebook statuses for family and friends, and creating an atmosphere at home on your own or with family and friends. Very few – the lucky ones – are in the right place at the right time to witness games live in the stadiums themselves.
These stadiums influence on-field performances. Players always talk about silencing the crowd, being with the crowd; they talk about the places they hated playing. When people turn up to the Etihad with Man City tickets, they know those in the crowd will get behind a team that purrs with minimal effort.
But what are the most hostile stadiums teams have to travel to in the Premier League?
Liverpool
Anfield is notorious. It's a stadium that, under the lights especially, becomes possessed by something deeper than most stadiums can muster. Before, Klopp took to the helm, Liverpool relied on Anfield to get them through difficult moments. They were a club stranded, clinging to moments past and desperate to muster any success. They didn't often go long without silverware, but consistency was a problem. Since Klopp, Anfield has been rewarded with most impressive displays – ones which inspire the crowd and then feed off it in a feedback loop that teams suffocate under.
The Kop is the ground's most infamous stand. However, as more of the ground undergoes expansions, noise is palpable from every corner. The noise feels steep.
Players and coaches have left Anfield battered, even if they've won. Etienne Capoue called it 'hell'; Arteta, despite the game going well, said he became overwhelmed very suddenly when the crowd erupted and the players gained energy from it; Sir Alex Ferguson called it 'electric,' loving the volatile atmosphere.
Leeds
Leeds' return to the Premier League was done without their fans. Their return to the top division was done so off the back of high-octane, emotional football. The kind of football Leeds fans had felt represented by for the first time in years, thanks for El Loco, Marcelo Bielsa. The fact they had to watch their first Premier League season in decades from home was a bitter pill to swallow.
When Elland Road gets roaring, though – which it did as stadiums reopened after COVID-19 restrictions lifted, Leeds felt it, as did their oppositions. Phil Foden spoke about how scary Elland Road was, how on-top-of-you it feels. The construction of their squad is still aligned with Bielsa's all-action football. It's emotional and aggressive. Jesse Marsch's appointment made sense – as did his sacking. If Leeds' continue pursuing this style with Javi Gracia in charge, the crowd will only add to the on-field performance.
Newcastle
Since the new ownership has come in at Newcastle, St. James' Park has taken to a new level. It's a level that knows their future lies in the top-four, or at least routine competition for it. The investment in the team has been met with enthusiasm and love from the stands. Eddie Howe has built a fun team with interesting players. This season has delivered on the promise of success, with a mounting bid to finish top-four in their first season of their revival.
Newcastle fans have always tried to make St James' Park a cauldron. It has been difficult during the Ashley years when things on the pitch were deeply uninspiring. It's a fanbase that was very willing to make itself heard through noise and silence. Andy Cole, the former Manchester United and Newcastle striker, described St James' Park as frightening during his time at the club. That time was fond. If fond times can return – which looks inevitable – a St James' Park with something to shout about and get behind will swing things in Newcastle's favour.