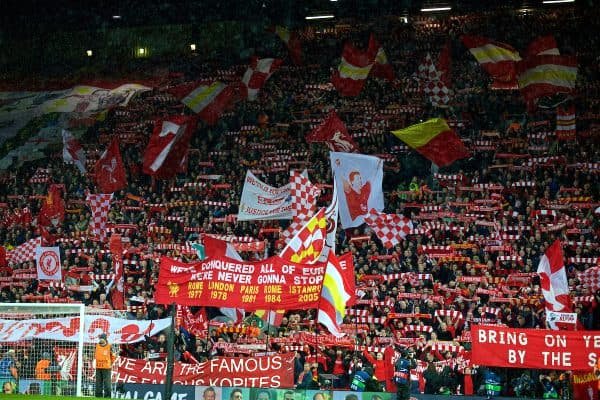 Every year British football fans from a variety of clubs embark on trips all over Europe as they follow their team's exploits in continental football. But the home ties are where they get to showcase their stunning sport on European nights.
Home atmospheres are of course affected by how positive a team's campaign has been overall. Teams that are flying in their league seasons are bound to have their fans in the mood to create an intimidating atmosphere come European nights. In the betting odds on the English Premier League, this season Arsenal are the favourite to lift the title offered at 5/6 to end their 19-year drought, and their UEFA Europa League nights this season have certainly offered a lively atmosphere due to the feel-good mood that Mikel Arteta has brought to the club. But who are the English teams that have earned a reputation for creating a strong atmosphere regardless of their form?
Liverpool FC
The Anfield mood is world-famous and is widely seen as one of the most intimidating atmospheres for an opposition player to face across all of Europe. Liverpool's pre-match anthem 'You'll Never Walk Alone' has been known to drown out the UEFA Champions League anthem on big occasions including the tie against Bayern Munich in the 2018/19 season. Liverpool's Premier League atmosphere has been criticised at times for its lack of liveliness in lesser games which is a fair criticism but ultimately European nights are when Anfield becomes a cauldron.
As #LFC get their Champions League campaign started tomorrow night, here's a great video of Arsene Wenger talking about his experience of those special Anfield European nights... pic.twitter.com/SNmDzEcRYJ

— Keifer MacDonald (@KeiferMacd) September 14, 2021
Liverpool's atmosphere is so powerful that it has a clear impact on the outcome of games. There have been a number of European nights that have seen the Anfield crowd and the Spion Kop specifically decide the result. For example against Barcelona in the Champions League semi-final of 2018/19 Liverpool trailed three-nil on aggregate going into the game. Anfield was well prepared for the occasion, the Barcelona players were whistled off the ball at every opportunity and Liverpool players were cheered towards Marc-Andre Ter Stegen's goal as Liverpool performed an extraordinary comeback. The crowd created a sense of inevitability around how the night would go. Few teams can cope with the Anfield atmosphere in full flow and it is arguably the greatest any Premier League club can offer.
Manchester United
Like Liverpool, Manchester United are another club that regardless of their fortunes on the pitch will always boast a full-capacity stadium on European nights. Similarly to their North-West rivals and many clubs within the league, their league atmosphere has been criticised for being dull and uninspiring and perhaps only expressing genuine energy when the team are in the lead. But in Europe Old Trafford is a much different offering. The Stretford End entices the entire ground to find their voices on the biggest of occasions against European heavyweights. It has inspired victories against the likes of Real Madrid, FC Barcelona and Juventus in the past.
😍 The Theatre of Dreams 😍#UCL pic.twitter.com/sfcu28be2J

— UEFA Champions League (@ChampionsLeague) September 29, 2021
Both Anfield and Old Trafford are fortresses on European nights and it is not at all surprising that two of the biggest clubs in the nation create the most intense atmospheres in the Champions League. With the clubs being incredibly popular worldwide, it is no surprise that league games see many tourists attend leading to a quieter atmosphere. However, in Europe where tickets are harder to come by and the stakes are higher the two famous grounds are second to none in terms of atmosphere in England.