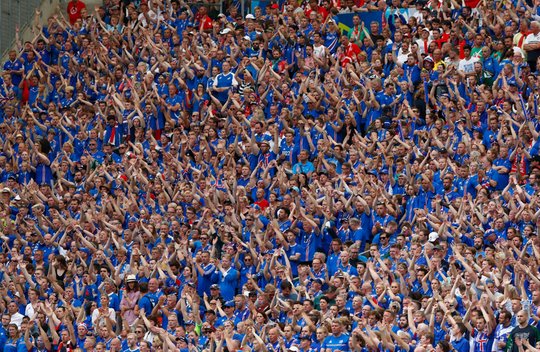 Euro 2016 was memorable for a number of reasons – Wales enjoying a dream run to the semi-finals, France fluffing their lines in the final on home soil and Cristiano Ronaldo inspiring Portugal to victory as a coach after suffering an untimely injury.
Iceland also won plenty of admirers at their first major finals, with England famously humbled in the round of 16 as a nation with a population of just over 370,000 sent Wayne Rooney, Harry Kane and Raheem Sterling packing with tails wedged firmly between legs.
Golden
The Nordic nation also made the World Cup two years later, with a historic run enjoyed by a golden generation of Icelandic talent. Unfortunately, they will not be making their way to Qatar in 2022, with World Cup tips instead being weighted in favour of 10/3 favourites Brazil, defending champions France and Lionel Messi-inspired Argentina.
Iceland may not be the biggest of misses on the field, but they certainly will be off it. A passionate fan base made as many headlines in the stands at a European Championship on French soil as those doing the business out on the pitch.
Some remarkable figures were bandied around during a dream run to the quarter-finals. It was said that around eight percent of the country's population were in attendance at a tournament some 1,500 miles from home.
Five years ago, in Iceland's first game at Euro 2016, the world was introduced to the thunderclap ⛈ pic.twitter.com/DzpnIhAJNu

— B/R Football (@brfootball) June 14, 2021
There were also suggestions that 99.8 percent of all Icelanders witnessed the stunning taming of Three Lions in Nice. Many of those were watching on from afar, but those in attendance certainly made themselves heard.
Iceland's so-called 'Viking Thunderclap' became a highlight of the Euros, with it remarkable to witness a performance on the terraces that was delivered with unerring synchronicity. As soon as a sense of calm descended among a vocal set of supporters, you knew what was coming next.

The silence would be broken by a collective cry of 'Huh'. Then the rhythmic clapping began, interspersed with more chanting as the intensity was ramped up and fever pitch was reached. It really was quite the sight, and rather unexpected.

Iceland international Kari Arnason said: "It was completely new – the EURO was the first time any of us had seen it. I'd never even heard of it before. It was brilliant though! Whoever started it definitely deserves a pat on the back. It looked and sounded fantastic, and it became something you looked forward to experiencing."
Inspiration
While the routine has become synonymous with Iceland and it has been imitated by fan groups around the world, its roots actually lie elsewhere. It has been revealed that Scottish outfit Motherwell were the inspiration behind the 'Thunderclap', with followers of Stjarnan impressed by what they witnessed during a Europa League trip to Fir Park in 2014.
There have also been claims that the roaring 'Huh' is taken from the film '300', where Spartan soldiers seek to intimidate their rivals with displays of solidarity that make it clear that a lack of numbers will be holding nobody back. Iceland got that message across loud and clear at Euro 2016, with memories made that will last a lifetime.