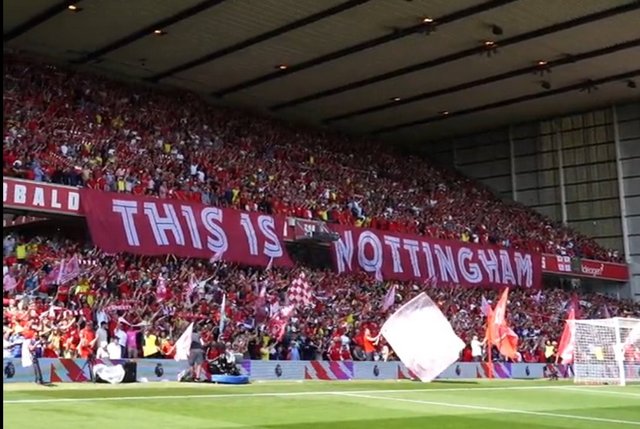 Depending on the direction in which you head to Nottingham Forest's iconic City Ground home, you may pass through or around the legendary Sherwood Forest. Once the stomping ground for heroic outlaw Robin Hood and his band of Merry Men, tales of upsetting the odds and establishment are commonplace in a fabled corner of the East Midlands.
In this part of the world, backing down is not an option and rivals of any kind must be met head-on. Said philosophy has served residents well throughout history and remains as topical in the present as it was when Maid Marian and Friar Tuck were proving to be serious thorns in the side of a local Sheriff.
Spirit
Deep in the Forest,
Something is stirring. pic.twitter.com/HREg6TNnFE

— Forza Garibaldi (@Forza_Garibaldi) January 23, 2022
Fighting spirit courses through the veins of Nottingham natives, with those qualities currently needing to be embraced by a sporting institution crying out for inspiration. Forest are finding favour hard to come by in football betting and sit at 1/3 to suffer relegation out of the Premier League. Football predictions are siding with others at present, with a side that spent 23 years patiently waiting on a return to the big time in serious danger of being kicked out of a top-flight party a matter of months after forcing their way back through the door.

Points are proving hard to come by, but passion remains in plentiful supply on the banks of the River Trent. Those on the pitch may be fluffing their lines somewhat, but the same cannot be said for a loyal set of supporters generating a raucous atmosphere in the stands.

Forest were always going to need their stadium to become a fortress when attempting to hold their own in a slugfest with heavyweight opponents, and no questions can be asked of those doing their best to make the City Ground as intimidating as possible.

Every one of the Reds' home games in the 2022-23 campaign has sold out without getting anywhere near general sale, with a mixed bag of results doing little to curb or dampen enthusiasm. For those on the terraces, hope and belief will continue to spring eternal.

Forest may stand accused of clinging to the past at times, with the City Ground having certainly seen better days during the European Cup-winning reign of Brian Clough, but at least a couple of generations know little of such success and still turn up in their droves ready to sing themselves hoarse.
Decibel
Sound 🔛 as Mull of Kintyre meets the @premierleague for the first time 😍 pic.twitter.com/6K1KQBQoO0

— Nottingham Forest FC (@NFFC) August 15, 2022
Mull of Kintyre continues to be belted out ahead of each passing fixture, with that anthem now standing as a match for any in the English game when it comes to decibel levels. Plenty of away followers over the last 12 months or so will have headed home with ringing in their ears.
Elaborate tifo displays have also become a regular occurrence, courtesy of the hard-working fans at Forza Garibaldi, with those taking to the field left in little doubt as to who and what they represent. Forest, and Nottingham as a whole, may have experienced plenty of highs and lows down the years, but they will always be rebels with a cause – much like the region's most famous son.