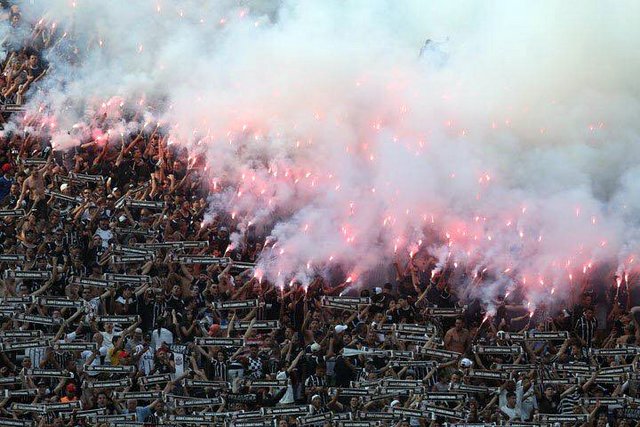 Football is called the beautiful game for a reason. It brings together half of the world, creates careers for millions and adds revenue to 200+ countries every year. Of course, not everyone loves football.
But in some nations, football is a religion. Everyone from the grandparents to infants follow football gloriously. They don national team and club-level jerseys weekly, and travel thousands of miles annually to watch the sport.
1—Brazil
Football is so popular in Brazil that it has become part of the country's identity. The South American nation excels particularly at national football, winning the highest number of World Cup trophies: five. Brazil has also won two gold medals at the Olympics events in Rio (2016) and Tokyo (2020).
There are numerous explanations on why Brazilians love football so much. For starters, it's an equalizing game. Anyone can participate in football regardless of their social status. Second, it's part of the country's culture.
Finally, Brazil has a huge population (211M), which helps bolster its reputation as an oasis for football greats. Speaking of which, Brazil is home to dozens of legendary footballers. Think of Pele, Ronaldo Nazario, Kaka, Ronaldinho Gaucho, Roberto Carlos and Rivaldo. Crucially, Brazil's army of footballers play at the top-most clubs in the world.
And as a result, the country has become so fond of football that 60% of the population identify as fans.
2—Mexico
When it comes to showing passion about football, Mexico ranks at the top. Okay, it probably comes second to Brazil. But with 90M out 120M Mexico fans identifying as soccer fans, that's a large percentage of one country falling in love with the beautiful game.
The beauty of Mexican football fans is that they show more passion to the national team than to private football clubs. When there's a soccer match in the country, stadium tickets sellout instantly.
Mexicans also watch club football. The country's top-tier football league—Primera Division de Mexico—has been around since 1943, features 18 teams and more than 40 million fans. Then there's Mexico love for Spanish football, more so La Liga.
3—The UK
When many sports leagues attempt to get a foothold in the UK, they aim for position two. The first position belongs to football, with a fanbase of at least 40%. Cricket and rugby follow next while Tennis, athletics and basketball follow.
The UK is particularly great at club football, with each of the four home countries featuring professional leagues. In England, there's the Premier League—the biggest football league in the world by annual revenues and followers. Then there's the Championship, League 1 and 2.
In Scotland, there's the Scottish League, home to top teams from Scotland and Wales. Although not the most popular league, the North Ireland Premiership provides great representation to football fans in the country.
The best part of football in the UK is that it's world-class football. As stated, the English Premier League delivers the crème de la crème of football. And as a result, it has 100M+ fans globally.
Additionally, the UK has pretty friendly sports gambling laws. All forms of online gambling are legal. What's more, the country has over 800+ betting websites: You can find the latest betting offers here.
4—Argentina
Argentina loves football. If you need evidence, look at pictures of the country's fans whenever the national team has a game to play. People attend matches in doves. Others watch the game at home.
In total, 90% of the Argentinian popular claims to love the beautiful game. This is the highest percentage of allegiance to football from a single country. At club level, Argentine football fans often take their love for the game to the extremes.
Take the Superclasico as an example. A derby between rivals River Plate and Boca Juniors attracts the highest number of fans every year. In fact, 73% of Argentinian football fans preserve allegiance to Boca Juniors or River Plate.
Away from club rivalries, Argentina has two great reasons to love the beautiful game: Diego Maradona and Lionel Messi. Well, you could also add Angel de Maria, and Sergio Aguero to this list.
However, Maradona and Messi impacted football in way few other players have. Maradona, of course, scored the controversial goal that won Argentina the World Cup in 1986. Messi took quite a while to win his first trophy for the country, but he finally did it during this year's Copa America tournament.
5—Germany
Football might have originated in England. But the Germans have proven for decades they have a deep passion for this game. The best part: Germans are ever trying to provide high-quality football, both at national and club level.
The German national team has won four World Cup tournaments, ranking it second only to Argentina. It's also won three European Championships and one Confederations Cup. At club level, German has invested in football well enough to have one of the big five football leagues in the world.
What's more, Germany's top-level leagues attract top-talents from all parts of the world. Of course, this only possible due to the country's enormous football fanbase.
6—China
This might come as a surprise to some, but China has a large number of football fans. To expound more, 30% of China's 1.4B population identify as football fans. That's nearly 500 million fans, double the fanbase in Brazil and bigger than the entire population of the US.
Now, China isn't known for its large pool of talented football players. Its local leagues aren't popular outside of the country either. All the same, there's a lot of people that enjoy watching or playing football in China.
7—India
Like China, India is known for having a large population of people. As such, even a small percentage of the population identifying as football fans drives up the numbers by a lot. That's alright, though.
Some of the biggest leagues in Europe—the big five—wouldn't be as popular were it not for the fans in India and China. Luckily, these countries are also investing in local football. And soon, they might play well enough to qualify for the world cup.