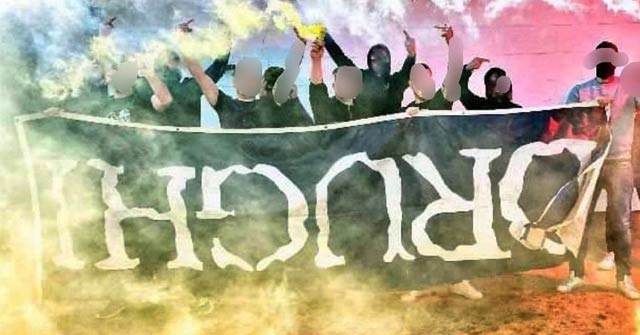 Belgium: Drughi dissolved after losing banner
Group "Drughi" Genk stopped their activity after losing banner to enemy.
Info Genk:
Sunday 25th of April 2021 is a date that doesn't only goes into history as the day our beloved club, KRC Genk, wins it's 5th Belgian Cup. It's also the day the Belgian ultra scene says goodbye to one of it's most well-known groups, Drughi Genk 2002.
A couple of hours before the important cup final against our archenemy from Liège, we unexpectedly got the news that one of our first, official banners came into the hands of another archenemy from Sint-Truiden.
We still can't comprehend how this banner is taken away from us in such an dishonorable and simple way. We also can't understand the enormous mistakes made by an individual who isn't even active anymore inside Drughi Genk for lots of years. The fact that this banner wasn't in possession of the active generation, means that we, as a group, made mistakes. And from this, we have to draw our conclusions.
This means that all activities by the alias of Drughi Genk will be discontinued immediately. The coming months won't be about the preparation of our anniversary year in which we would've exsisted 20 years. It will be about processing this loss.
We will make sure that as a group, no, as a family, we will stay united during this dark times. We have to take a look where the future leads us. But without a doubt, the love for our club, KRC Genk, will never fade away.
We can all look back at a bright and beautiful existence in which we distinguished us at all things an ultra group has to.
Gigantic tifo's were made
Arena's were left ablaze, with and without fireworks
We followed our club throughout Belgium and Europe
A lot of activities and events were organised, wether or not for our beloved club, the city or charity
Finally we want to say a huge thanks to the other firms in Genk (GCF, Geneche, Ultras) and our friends from Sittard and Mönchengladbach. Together we went trough amazing times, we did numerous great actions and they supported us a lot during the last couple of days.
Drughi Genk
2002-2021