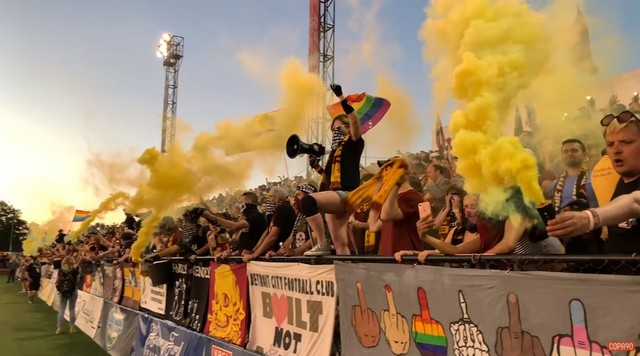 They might not be the most famous football supporters club in the world, but in certain circles, the backers of Le Rouge - the supporters of Detroit City FC - have certainly gained cult hero status among followers of the beautiful game in America.
A franchise in the National Independent Soccer Association, a lower-tier league in the United States, Detroit City FC fans - known as the Northern Guard Supporters - are famous for bringing an international flavor to their backing of their favorite side.
Their march to the match on match day, complete with smoke bombs, team chants and oversized flags suitable for waving, has gained Le Rouge plenty of attention from the area's media in a city that's known for its professional teams in the big four of North American sport - the NHL's Detroit Red Wings, the NBA's Detroit Pistons, the MLB's Detroit Tigers and the NFL's Detroit Lions. The NISA might not be on par with those outfits, but if you check with sportsbettingsites.com, you just might find an online sportsbook offering odds on their matches.
This unique celebration of all things Detroit City FC, like much of the world's social activities, has been put to the sidelines by the COVID-19 pandemic. This was especially distressing, since backing the squad is as much about the community and the social gathering as it is about the action on the pitch in front of them.
The coronavirus has forced the avid membership of Le Rouge to find new and different ways to show support for their football-playing heroes.
Virtual Supporters
Unable to attend matches in person since the 2019 season, Detroit City FC supporters wanting to still back their side found a number of different methods to continue to band together.

"I stayed connected to the team by just really being on Twitter and socials as often as I could," Detroit FC supporter Jarret Maki told Fox2Detroit. "I couldn't even imagine how tough it was to not have fans in the stadium for both the front office and players, so whenever I could I'd share or retweet posts about new merchandise and just kind of do my part to help out during the difficult time."

NGC happy hours were organized regularly via Zoom, enabling backers of the club to share stories, reminisce about past matches and commiserate over their inability to attend matches in person. Most of these planned hour-long sessions would extend into the wee hours as supporters, well, supported each other in their time of need.

"Since I don't go to school in the Detroit area, the move to a lot of things being virtual has actually helped me feel more involved/connected than I would have in the past," Detroit City FC supporter Illuin Darlington Bai said.

A robot smoke bomb igniter was installed inside Keyworth Stadium to enable supporters to detonate smoke bombs remotely during matches.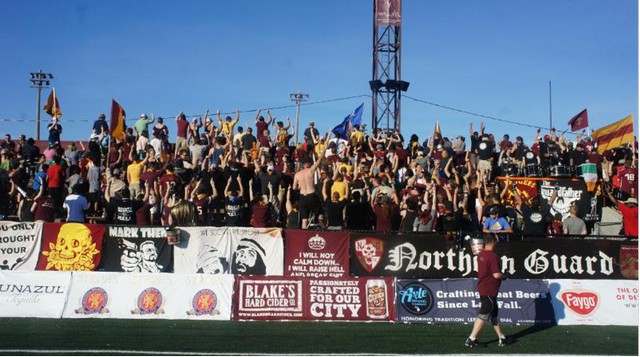 "Detroit City FC, fans" by stadiumjourney is licensed under CC BY 3.0
The March To The Match

The ritualistic rite of passage that makes one a Detroit City FC fan and a member of the NGS is to partake in the march to the match on match day.

The NGS gathers about an hour prior to kickoff at Fowling Warehouse, the official pre-match bar of Detroit City FC and lead a half-mile march filled with drumming, chanting and singing through the streets of Hamtramck to Keyworth Stadium.

"I miss the long walk down the blocks to get there," Detroit City FC supporter Henry Callaway II said. "The anticipation is kind of like the joy a kid gets when their parents pulls up to a McDonald's."

After a year-and-a-half without the chance to watch their heroes in person, Detroit City FC supporters are anxiously awaiting the 2021 season, which gets underway May 1st. Season tickets are being sold and supporters will again be permitted to attend Detroit City FC matches. COVID-19 protocols will be in place, so it won't be identical to past celebrations, but it's a start.

"What I miss most would be, to give a bad answer, all of it," Detroit City FC supporter Nick Beyer said. "Long answer would be waking up on match day, arriving to Hamtramck, usually too early, grabbing food and drinks, seeing everyone, hugging everyone, the match, the post-match stuff, all the little things in between. The jokes, the banter."