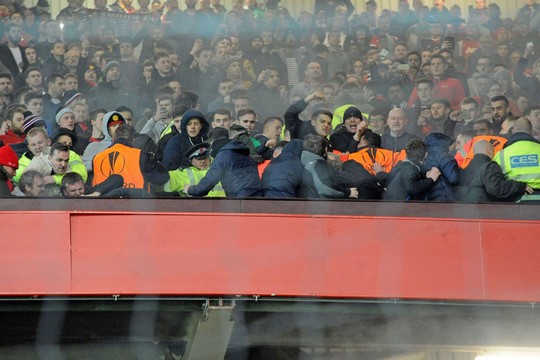 Football is not only the most-watched sport but also a game known to create a bitter rivalry between club fans. In England, a fixture between Manchester United and Liverpool has always birthed tension among fans across the divide. While it is not a derby fixture, the rivalry goes deeper than most fans think. It is the most fought football fixture in England, nearly comparable to Boca Juniors vs. River Plate in Argentina. But before we explore a few reasons behind the epic rivalry, gentpromocode lets you place bets on your favourite sportsbook with a few clicks.

A Bitterly Fought First Fixture between the Two Teams
The first fixture between Manchester United and Liverpool dates back to the 1893/94 season. Back then, Manchester United was known as the Newton Heath. Interestingly, the two teams were not in the same division. Manchester was in the first division and having finished bottom they had to meet Liverpool which topped the table of the second division. It is a fixture that birthed years of rivalry we still witness today. Despite being in a lower league, Liverpool defeated Manchester United in that fixture by two goals to nil hence replaced Newton Heath (Man United) in the top-flight league.
The Rivalry Goes Deeper Than Football
Another trigger of the rivalry between Manchester United and Liverpool has little to with football. The two cities were arch-rivals in the 1800s. When a ship canal in Manchester United was constructed, the Port of Liverpool imposed high levies on ships from Manchester. The action forced the City of Manchester to sack labourers and dockers from Liverpool, leading to massive job losses. As a result, Liverpool suffered economically, something which Manchester took advantage of to grow their economy faster and beyond that of Liverpool. These actions escalated tensions between the two cities, which has transitioned to football rivalry even today.

Near Similar Honors on the Field
Liverpool F.C and Manchester United are undoubtedly the most successful football clubs in England. However, the success of the two clubs comes with bitter rivalry. A desire to outdo each other has always been evident. The two clubs have won the league's trophy more than any other English club. Currently, Liverpool has 19 league titles while Manchester United has 20 titles. It is the closest club honour you can find in Europe's top flights. The two clubs are also nearly at par on the European stage, which further births a classic rivalry between two clubs that don a home jersey. However, Liverpool's success in European football is better than that of Manchester United, which has always been a centre of conversion whenever the two clubs meet.

A Rat Race for more Titles
Titles play significance in the success of any football club. In Scotland, Rangers has won their 55th title after a decade. In England, Liverpool has become a force to reckon with in English football. The reds have become the club to beat and look set to replace Manchester United on the domestic titles leaderboard. On the contrary, Manchester United is yet to win the league title since Sir Alex Fergusson retired, which has made them a laughing stock among Liverpool fans.