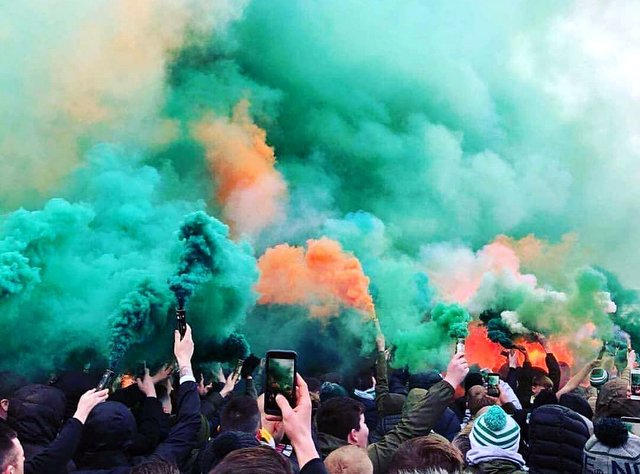 Whenever you think about passionate football fans, the image of football fanatics in filled stadiums, holding banners, scarves, drums, flares and them chanting out songs comes vividly to mind. While the times we live in allow for limited access to stadiums, and pretty much less ongoing activity, there is still a world for die-hard fans. Below is a list of the 10 most passionate football fan bases today brought to you by football experts posting their football predictions on bettingsites.ng
1. Celtic
Celtic Park has to be one of the most difficult places for any Champions League side to go to. On those special game nights, the Green & White Army give off an atmosphere that is definitely unforgettable, especially to the away fans. Fans from home don't hesitate to play their role in the Celtic's undying European Culture.
2. Borussia Dortmund
The 'Yellow Wall' is known globally. Not only do Borussia fans create huge volumes from this very stand, but it is also something straight out of the movies. All banners and flags in black and yellow give off what is seemingly a sign to back off to opposing teams and fans. Accompanying this already intimidating view are loud chants that will demotivate the fighting spirit of any opponent.
3. Besiktas
The atmosphere created by Besiktas fans simply can't get played down. Speaking of volume alone, these fans took the crown for 'loudest crowd ever' back in 2007 in a game against Liverpool.
4. Boca Juniors
According to some people, La Bombonera is the most intimidating of football stadiums. The Boca Juniors fans are literally held back by a couple of mental fences. As a matter of fact, when the crowd is in their full cheering frenzy, the stadium shakes!
5. Napoli
Neapolitans are football fanatics and Napoli is Italy's 3rd largest stadium. The club may not quite live up to its reputation and good old days when the legendary Maradona played for it, his passion representing and matching that of his fans from home.
6. Olympiakos
Red flares and blaring drumbeats fill up Karaiskakis, creating such a fearful atmosphere and tension for away fans. Greek and Turkish football fans support their teams so noisily, that the losing team could end up winning out of the fear and tension in the air.
7. Liverpool
Anfield has a global reputation for deep passion for their fans when it comes to those huge European nights. With scarfs aloft and the kop leads in 'You'll Never Walk Alone', the team feels unbeatable!
8. Feyenoord
While PSV and Ajax have gotten much of the success over the last few years, Feyenoord fans are without a doubt the most passionate fans in the entire Netherlands. Here, opposing teams and fans will be left feeling far from home. Each player on their side is also reminded that they need to put in the hard work and show something for it in those 90 minutes.
9.Dinamo Zagreb
Croatia's Dinamo Zagreb are a noisy and loud lot that even watching them in itself is mesmeric. These fans sometimes let matters get out of hand resulting in unnecessary violence.
10. Saint-Etienne
Boasting decades-long success since the 1980s, Saint-Etienne has a fanbase that is out of this world. While the club nearly faced relegation, the fans were still there to cheer them up, making so much noise you'd think they were winning.