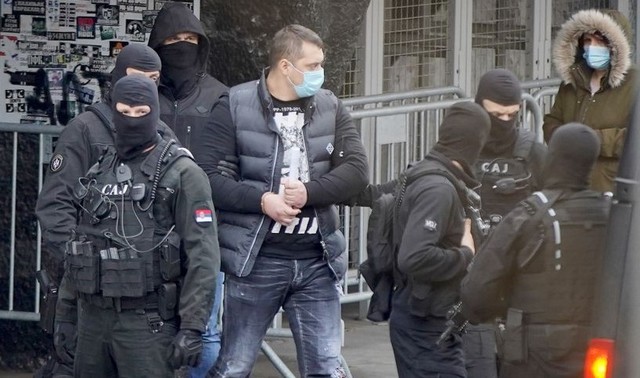 Serbia: Big police action against criminals among Partizan fans
Serbian police have arrested 17 people in a crackdown on a crime gang linked to Partizan Belgrade ultras group "Grobari".
One of the Grobari capos Veljko Belivuk, nicknamed "Velja Nevolja" ("Velja the Trouble") was among those arrested in the raids.
The arrests took place overnight and were the result of a joint operation of Serbian police and the intelligence agency, Interior Minister Aleksandar Vulin said in a statement on February 4.
The suspects were accused of murder, extortion, kidnapping and drug trafficking.
Authorities said that "the dismantled criminal group was hiding behind" a group of supporters of the Partizan Belgrade football club.
In same time on Thursday police raided Crvena Zvezda and Partizan Belgrade stadiums.
In the raid on the Partizan stadium, police even took 11 banners/flags from Grobari (groups Obrenovac, Kovin, Shadows, Princip, 40+, Front, Vandal boys, Kosov is Serbia, Front big, Samo Partizan, PAOK Partizan).