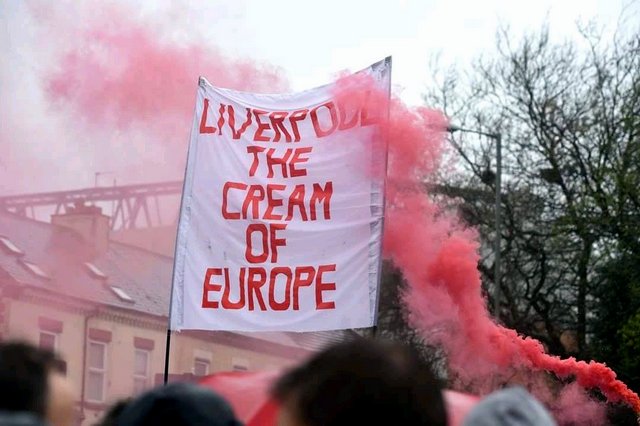 The rivalry between Liverpool and Everton is arguably the biggest in English football. We realize that we'll have angered more than a few English football fans with that statement, but it's true. Manchester United and Manchester City fans might not get on, but the battles between the two sides have never raged as hard as they have between the two Liverpool-based clubs. Arsenal vs. Tottenham pales in the shadow of a proper Merseyside derby. Newcastle vs. Sunderland might be a big deal in the northeast, but it matters far less to anyone living outside that area. Celtic against Rangers in Scotland might be the only valid comparison that can be made in the British Isles.
The rivalry hasn't been at its hottest during the Premier League era, but that's largely because Everton haven't been much of a threat to their neighbors during the past thirty years. Traditionally, Liverpool is the 'glamor' club, and Everton are the poor siblings. There's a reason why Liverpool is the only football club in England that has its own official online slots game, and Everton doesn't. You'd also probably have got better odds of an immediate win on Rainbow Riches than you would get on Everton finishing above Liverpool in the league during the past three decades, but that's by the by. Things are changing. Under Carlo Ancelotti, Everton is a dramatically improved team. It would no longer be accurate to say that you'd get friendlier odds from an online slots website than a bookmaker's when it comes to Everton winning major honors. Their time might finally have come.
In anticipation of that happening, and as a reminder that this classic fixture can still throw up drama even during the Premier League years, here are five major Merseyside drama flashpoints from the past thirty years.
Steven Gerrard Blasts A Hat Trick
It was probably fate that led to Liverpool legend and captain Steven Gerrard facing Everton on his 400th Premier League game. The Toffees were desperate to spoil the day for Liverpool's talisman, but Gerrard couldn't be subdued. While always a threat as a goalscorer, hat tricks were a rare thing for the attacking midfielder. He saved one of the few he scored to mark this occasion. Gerrard was the only scorer in a 3-0 victory at Anfield, and that wasn't the worst thing about the defeat for the Blues. It also happened to be the ten year anniversary of then Everton manager David Moyes' first game in charge. There were no celebrations for Everton or Moyes that day. Instead, Gerrard wrote a whole new page in his sizeable Anfield legacy.
Robbie Fowler's Inflammatory Celebration
Everton fans had a few songs they liked to sing about Liverpool striker Robbie Fowler during the 1990s, few of which can be repeated here. Of the numerous things he was accused of in their chants, Blues supporters repeated the suggestion that he dabbled in illegal substances the most often. Having scored twice in the Merseyside Derby of April 1999, Fowler decided to rub it in the Everton fans' faces. He ran in front of their stand, crouched over the white touchline, and pretended to snort it. The implications were obvious, and everyone understood what he meant by it despite manager Gerard Houllier's post-match insistence that the charismatic forward was simply "pretending to eat the grass." The incident resulted in a four-game ban for Fowler, but it secured his legendary status with the Kop faithful.
Luis Suarez's Inflammatory Celebration
Apparently, Everton fans didn't learn much from their failed attempt to wind up Fowler. They gave Uruguayan striker Luis Suarez the same treatment every time he played against them, and he responded in the exact same way Fowler had years earlier. The provocation was worse on this occasion, though, because it was encouraged by Everton's manager. In the build-up to Liverpool's clash with Everton in October 2012, David Moyes labeled Suarez "a diver." Few would argue with that description, and many would point out it's far from the worst thing Suarez has ever been accused of on a football field. Nevertheless, it clearly stuck in Suarez's mind because when he scored the opening goal of the game, he ran the full length of the pitch and dived at Moyes' feet. The Scotsman was less than impressed, but Liverpool fans loved it.
Everton Doom Kenny Dalglish
There are few men more beloved at Anfield than Sir Kenny Dalglish. As both a player and a manager, he's won championships with Liverpool, and he's still a non-executive director of the club today. He's had downs as well as ups, though, and he had no bigger down than a 4-4 draw with Everton in February 1991. Liverpool were 4-2 up entering the closing phases of the game when striker Tony Cottee bagged a late double, denying Liverpool the points and pushing eventual winners Arsenal closer to the title. Dalglish, struggling with issues outside of football management, resigned from his position just two days later. At the time, he said he needed to get away from the pressure of the job and blamed the late collapse on his own failure to make defensive changes in the final minutes of the match. Liverpool fans had lost their folk hero, and Everton had claimed a huge symbolic scalp.
Setting New Records
Never let it be said that the best days of this fixture are behind it. As we said at the start of this article, Everton have exceeded all expectations in the Premier League thus far this season and are in touch with Liverpool toward the top of the table. It's not even outside the realm of possibility that they could mount an unlikely title challenge, although Manchester City and Manchester United look like more probable contenders to wrench back the Premier League crown from Liverpool. Perhaps this new sense of optimism is the reason why so many people tuned in to watch the delayed Merseyside Derby that took place in June 2020. It's currently the most-viewed Premier League game of all time in England, with 5.5 million people watching in the country and many millions more watching all over the world. It wasn't the greatest game in the world - in fact, it ended 0-0 - but it was a potent reminder that there will always be interest in this game. We hope that never changes.