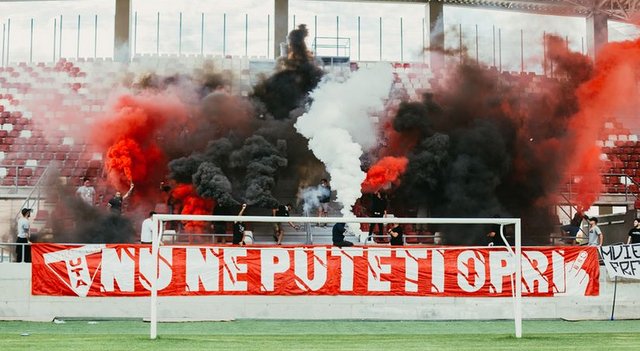 Romania: Fans dissatisfied with new play-off tournament.
Small part of UTA Arad ultras protested against Romanian federation decision to organize a play-off tournament between first 6 teams on rankings of Liga 2 and reduced their points to half.
Before this decision, UTA was on 1st place in Liga 2 with 50 points and 11 points ahead of 2nd place. Now, after cutting all points in half, UTA will remain only 5 points ahead of the rest of clubs (this meaning that two of their victories in this seasons were completely erased).
This is the first ultras stand to return to stadium in Romania and also first choreo on their newly built stadium. In Romania it is still forbidden to organize such action as only max. 3 people are allowed to be stay next to each other in public and all events were cancelled. Text on banner: You can't stop us!