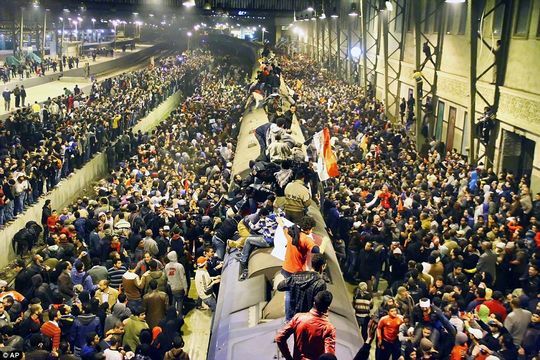 All throughout history, football has become of cultural significance in many countries across the world. Football has become so beloved and part of many people's lives that they have even started betting on their favorite teams.
These aren't just small scale bets amongst friends, there are now football betting sites that are dedicated to providing betting tips and predictions. To entice football fans into football betting, bonuses like a 1xbet bonus are given by sports gambling sites as a gift to encourage fans to take part in the game.
While football betting big amounts of money on your favorite football club may seem rather outlandish, it isn't the most shocking. Here are some of the most shocking football moments that have been recorded in history. All for the love of football!
Egyptian Football Fans Riot After Match
First on the list is one of the most tragic disasters in football history. Violence broke out at the football stadium in the city of Port Said when the local team, Al-Masry won over Al-Ahli—one of the leading football clubs in Egypt.
Right after the final whistle, the fans stormed on to the football pitch and chased after Al-Ahli's players into their changing room. At the same time, other fans threw stones and set off fireworks at the visiting supporters. This catastrophic acts of violence ended with 74 football fans killed.
Man Stops Football Match With Goalpost Protest
Every thought if it was possible for one person to stop the whole football game? Well, it is. A football match between Manchester City's Premier League with Everton was shockingly disrupted.
Right before half-time, the fan hand-cuffed himself to the goalpost and put the game into a halt for a whole 7 minutes before being escorted out by the police. Players and fans were bemused by the scene.
According to reports, the male fan handcuffed himself as a protest against Ryanair (airline) for not giving his daughter a job.
A Brazilian Fan Killed by Toilet Bowl During the World Cup
Another shocking yet absolutely tragic football fan moment is when a Brazilian fan was killed during the World Cup. According to Reuters, the Brazilian fan was struck in the head by a toilet bowl and died immediately.
The toilet bowl was thrown by enraged fans after a 1-1 draw between clubs Santana and Parana. After the game, a huge fight broke out which then led to the tragic incident.
When Luis Figo was Attacked By A Pig's Head
As mentioned earlier, football isn't just a game. It is part of a culture, a way of life. And in this case, things got very personal. After Luis Figo announces move to FC Madrid to FC Barcelona, he gets a not so subtle message from his former supporters.
After five years of playing for Barcelona's football club, fans felt betrayed about Figo's move to Madrid. During a match, objects (including the pig's head) and insults are suddenly thrown from the stands at Figo as he plays on the field.
The pig's head signified the disdain and betrayal felt by passionate fans of Barcelona towards Luis Figo's career move. From this, when it comes to being a professional footballer, you're not only playing for your club, you are also playing for the people of the city.
To conclude, the love and devotion fans have over their football club go above and beyond—and far beyond. These incidents truly shocked the football world at different levels, there were baffling moments but there were also very tragic moments. Football's significance goes far beyond the game.