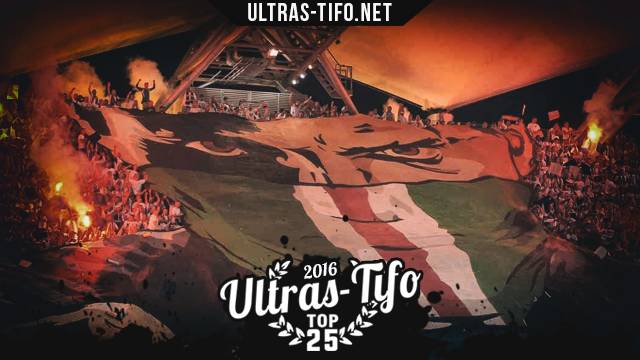 POLL: Best worldwide TIFO actions in 2016.
2016 is behind us and it's time to choose the best tifo actions. Despite all the repression and modern football rules - last year was very good for the ultras movement. Euro in France was very interesting but we also saw many fantastic shows on terraces around the globe.
As usual very difficult to choose just 25 actions among hundreds of great shows. But we hope you gonna like our choice's. Top list is lined up by date! You vote for the best!
New this year is a top 3 list with the personal opinion by each of the administrators.


TOP 25
These were the 25 best tifos in last year for us. You can also check them all sorted on our FACEBOOK FAN PAGE where you can also vote.
How to vote
We selected 25 TIFO actions, you vote for the very best!
This year we have published one gallery on our Facebook Fanpage. In this gallery there is 1 picture of every candidate. We consider all 25 candidates as winners, but that picture which get most "likes" at the end of Saturday 14th of January will win this contest. Please don't only vote for your team, but on the very best TIFO action.
>>> CLICK HERE TO VOTE! <<<
Our personal TOP 3 tifos in 2016
Three admins (FCT, Brann and Semper Fidelis) chose three tifos which they tough were the best last year and shortly explained why.
FCT :
It's great to see so many groups doing their best in support and fighting the difficulties and repressions over them.
I can think of at least 4-5 scenes that deserve big respect, but among them Polish one seems to be on top this year. Never before we had so many tifo's from Poland in our Top25 voting.
Before going into my personal Top 3, I'd like to admire the Stockholm scene - AIK, Hammarby and Djurgarden for their good job in drawing tifo's. Good words goes to Zenit, Spartak Moscow, Köln & other German groups overall.
3. Legia Warsaw (vs Lech Poznan 02.05.2016)


Four different big choreographies from Legia that day + huge smoke show and a good pyro for finish, for sure deserve big thumb up! Legia definitely prove themself big not just outside, but inside the stadiums too.
2. Legia Warsaw (vs Borussia Dortmund 14.09.2016)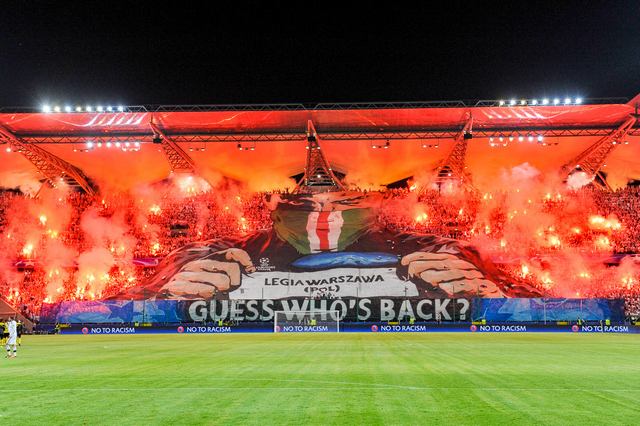 Does this even need an explanation? Right in your face, UEFA.
1. St. Etienne (vs Monaco 29.10.2016)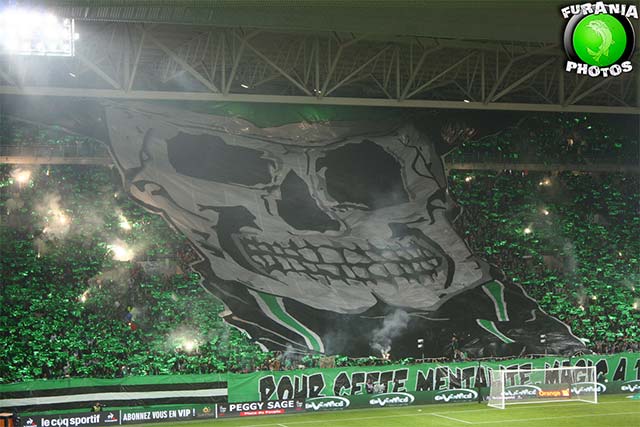 I think the best tifo this year was done by Magic Fans for their 25th Anniversary. 5-6 different banners explaining the history of the group, all of them great made, followed by another tifo and a nice pyro. Especially the final message of them - "Your through we were done but we're just starting...". Respect.
BRANN:
For me it's nearly impossible to make a top 3 list. When I worked with the video I got goosebumps on my skin from nearly every club we added. Some groups struggle more than others against repression and police. In some countries it is a huge achievement to just light a couple of flares and not get arrested for it. In other countries flares is something common in every match. I respect all ultras who fight for their mentality and the ultras life style!
Noen of them is in my top 3 list this time, but the ultras movement in Sweden and especially Stockholm is just amazing now days. Massive improvements over the past years! Many clubs and groups could be mentioned, but here is my top 3 TIFO actions in 2016.

3. Union Berlin (vs Borussia Dortmund 24.01.2016)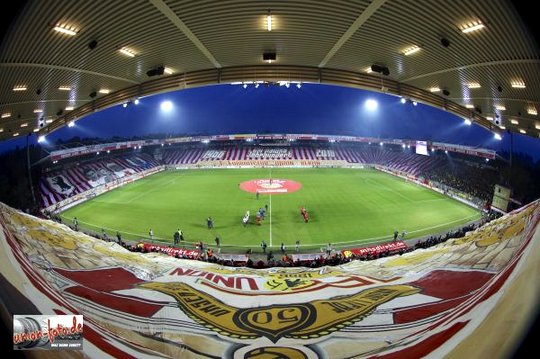 Among the smaller clubs in Germany, but knownfor very good support!
Their 50th anniversary show was just brilliant. All stands included in this show and covered by huge well-painted banners. When the banners disappear they had a second show with small flags in all stands.
Later in the match they made a very nice pyro show, which isn't easy on home games in Germany.
2. St. Etienne (vs Monaco 29.10.2016)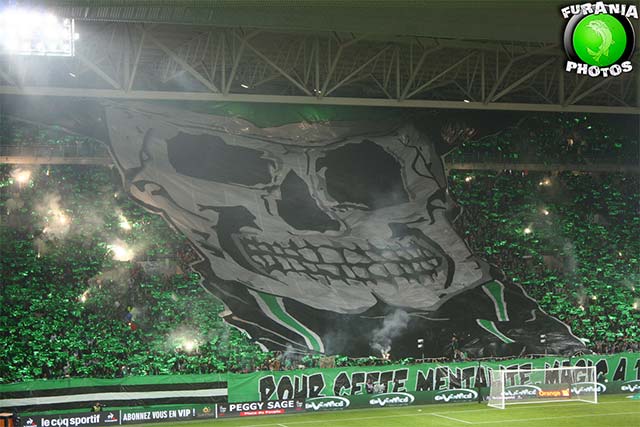 25th anniversary of Magic Fans was just magic!
Both Green Angels and Magic fans deliver fantastic shows every season, but this match was outstanding.
Many huge banners displayed and one very nice choreo with the skull and flashing pyro. In the end they also made a massive pyro show which is very rare to see in France now days!


1. Legia Warszawa (vs Borussia Dortmund 29.10.2016).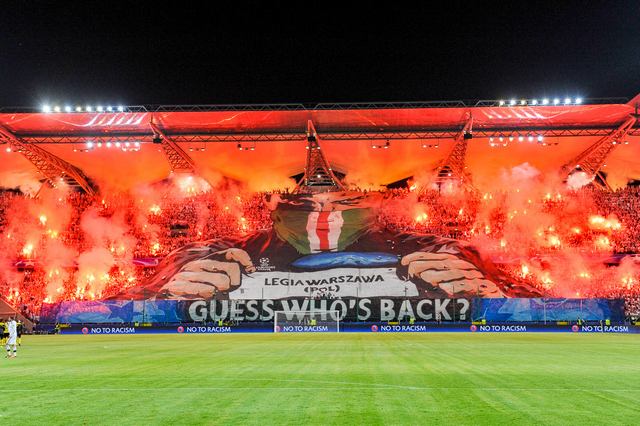 What Legia displayed in the Polish cup against Lech Poznan was probably more impressive and harder to organise, but this simple show against Borussia Dortmund is just fantastic. It looks nice, it includes pyro and it was a solid kick in the face of UEFA and their stupid repression towards ultras in Champions League and Europa League. Well done!
SEMPER FIDELIS:
Despite big repression in almost all countries, despite all modern shit in football and generally life, the ultras movement is still very strong and the scene is very active. This poll definitely proves it. It was very hard to choose my top 3 favorite tifos, but here is my final choice:
3. Köln (vs Borussia Dortmund 10.12.2016)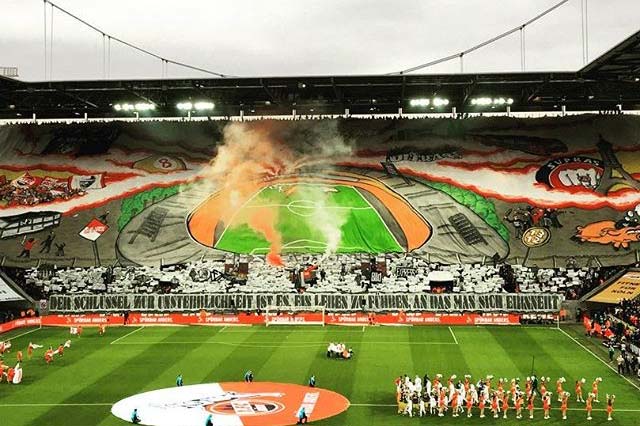 Love the painting of this huge banner. Many small details showing story of first 20 years of group Wild Horde. Perfect! German scene is just fantastic last years.
2. St. Etienne (vs Monaco 29.10.2016)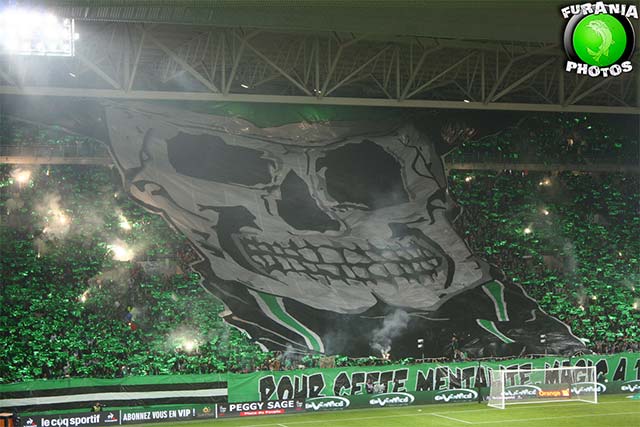 St.Etienne groups are famous for spectacular choreos and they prove it one more time. 25th birthday tifo was great. Complicated, made from many parts with lovely message for the future and new generations. Bonus - big pyro show, not very often seen in France last years due to the repression and fines.
1. Legia Warsaw (vs Borussia Dortmund 14.09.2016)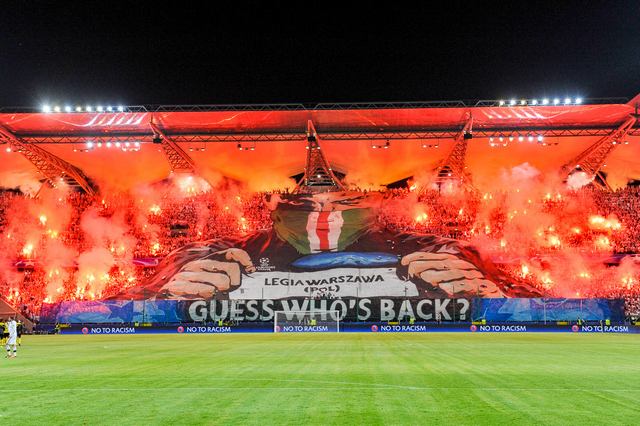 This is definitely my number one tifo in last year. It has great message, it looks very nice and most important it has a lot of pyro. Legia fans are one of the rare big groups in Europe that doesn't care for Uefa fines, bans and very often prepare spectacular pyro shows in Champions or Europa league. Respect! Many big groups can learn from them.
Visit our Facebook fanpage to vote.
Picture with most "Likes" win.