CROATIA: Big repression on Bad Blue Boys continues.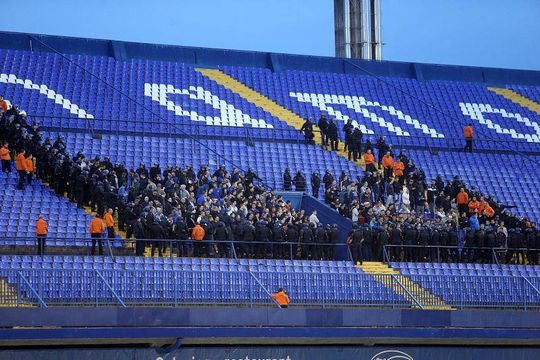 As you probably know, Bad Blue Boys (Dinamo ultras group) are last few years in war with their club board (and that's one man = club vice president Zdravko Mamić).

On home matches they suffer big repression from police and stewards. In year 2012 they moved from their home tribune (North) to East stand to be together with normal fans and avoid big repression. But it's not much easier there. On entrance on tribune they must go through few controls, alco test, even police put special tent for "anal control".

Most of them are already banned. Some of them have police bans (which are regular for all ultras in Croatia), but there is also "black list" which is valid only for Dinamo stadium "Maksimir". That list is made by club (Zdravko Mamić) specially for BBB.

From this year club is forcing fans that are coming on East stand to sit on chair for which they bought ticket. Just to stop BBB from creating "kop" and sign against Mamić. Ofcourse some BBB bought tickets for wrong sector, so when match start they run through security to stand in kop with their friends. Do we have to mention that East stand with capacity around 10k is 95% empty every match.
Same was on last match vs Rijeka (cup final). BBB formed kop on middle of tribune. After match finished police and stewards surrounded BBB and didn't let them to go out. While away fans were already on their way home, BBB (and all other fans that got caught there) were still on stadium. 1 by 1 were going out and they had to show their ticket to stewards. If they didnt had ticket (for example they throw it after they enetered stadium) or they had ticket for wrong sector they were arrested. Total 60 fans spent night in police station and got fined with 900 kuna (120 euros) and 1 year ban for all stadiums in Croatia (that means they had to go in police 2 hours before every Dinamo and national team match). JUST BECASUE THEY DINT HAVE TICKET OR HAD TICKET FOR OTHER SECTOR! Fans said that this action was lead by stewards and police just follow their commands!

And that ticket rule on Maksimir is valid only for East stand. On other tribunes you can sit where you want.
Once big group and one of the strongest in Europe is now in very bad position. But big respect to lads that still don't give up, many other groups will gave up long time ago if they were under same repression.

Check also: