4350 EURO in fine, but after 8 months video evidence proved he was innocent.
4350 EURO in fine, but after 8 months video evidence proved he was innocent.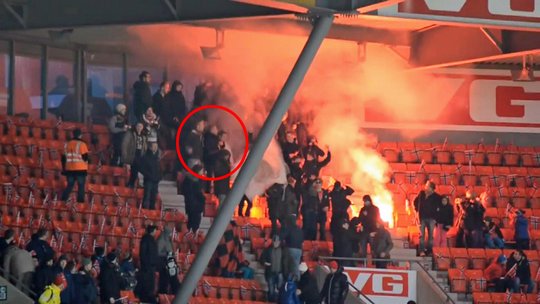 Norwegian Football Federation and police accused an innocent supporter for lit a flare during National Team match. FIFA gave the Norwegian FA 4350 EURO in fine, and the Norwegian FA wanted to give this fine to an innocent fan. Few days before court trail a new video proved that Anders was innocent.
Spokesman for the Norwegian Supporter Alliance "Posse" wrote us the whole story:
Monday 18th of November, 09:00 local time, Oslo Court houses a bit of a disputed case. The defendants name is Anders Johansen, a 33 year old father from the south-eastern city Fredrikstad. Anders faces charges for – what may be slightly lost in translation – "negligent (or careless) blasting",
after a group of around 50 ultras from various clubs lit flares and strobos on the qualifying game between Norway and Albania after the Norwegian Football Federation (NFF hereafter) abandoned their gentlemen agreement with the supporters and the Norwegian Supporters Alliance (NSA hereafter).
The agreement was to raise the collective punishment from February 2013, where pyrotechnics were banned from the stands in all of Norway because the NFF decided they needed to "take action" after a big pyro in the derby match vs Vålerenga and Lillestrøm autumn of 2012. This collective punishment was not taken lightly, and when the NFF decided to break the agreement that they would lift the restrictions after the supporters kept the stands free of pyro for 5 rounds to show their ability and responsibility to demand self-control in this matters, fury rised and many wanted to protest on a match that would make FIFA punish the NFF. As so happened, NFF needed a scapegoat. They chose Anders.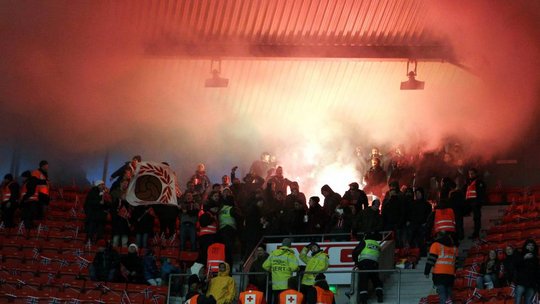 The conditions on the stands during the demo was messy, but not chaotic. When the flares went out, police went in and escorted several people out. NSA spokesman was present and admonished them that if they were so sure of who was guilty, they should wait until after the game and not go into a crowd in the way they did. It appeared for the NSA spokesman as though the police took random people to thin out the group. An undercover cop was evident in the hallway behind the stands - he was 100% sure he had seen Anders light a flare. Anders denied this.
About a month later, Anders received a letter from the NFF, dated 10th of April 2013. The letter had terrible timing and message. Anders was formally warned that he would be solely responsible for the full extend of the fine FIFA were to give NFF for the actions at Ullevaal Stadion. The fine was measured based on the actions of 50 ultras on one stand, and flares lit in the Albania sector later in the game. Although the fine is given to the NFF because NFF was not able to keep the terraces free of pyro, NFF "are of the opinion" that this fine should be paid in full by Anders. NSA spokesman scolded the NFF in the middle of the night after the letter was received, and some of the content is quoted below:
"When you / NFF decide to take this step, I expect that it is completely conclusive evidence behind. And as the professional organization you are, even with your own legal professional charge in this case, I expect that it's a breeze for you to immediately be able to provide conclusive proof to corroborate this claim and the exclusion from all stadiums."
Furthermore, the spokesman explained that he himself had been present on the terrace when all this happened and had not seen the person do as it was described in the letter from the NFF. It appears from this letter that the NFF leaned on that the police had arrested Anders for using pyro, and therefore regarded Anders as proven guilty. The email goes on:
"If the NFF can not provide conclusive evidence that this person has used pyrotechnics, I consider the above letter as a serious violation against the supporter and his legal rights. A claim where there is no coverage for levy will do irreparable damage to the already shabby relationship between supporters and the NFF. In addition, the letter is hasty and unnecessary, it has not even been made any claims from FIFA yet. This is basically a warning (+ suspension), solely a decision from the NFF to intimidate a person and show power. If it turns out that there is no evidence in this case, NFF will probably never be forgiven by the supporters. And for all future, people will remember this case when similar issues comes up.
In this case, the NFF has the full burden of proof, as a professional organization with legal expertise, and you have already sent a distressing letter to a person's home address. I therefore demand that you immediately present conclusive evidence that the person has committed a violation as described in the letter. If you can not submit this evidence I want you to write a new letter to the person where you apologize for the breach, waive the claim and repeal the ban - with a copy to me."
The response from the CEO who signed and sent the letter, was that he would not comment on ongoing matters. The same quote was given then media covered the story.
Words against words
It might cause you trouble if you claim that a police officer is lying. A police officer is suppose to be the enforcement of the law (our European brothers may notice we have less problems with the police in Norway in the big picture), moral guardian, and his / her words often weighs so heavily that they alone are enough to have a person convicted of various charges. But it was made clear from NSA spokesman both to the NFF and the police that it is possible to make mistakes, when there are 50 people dressed in black on a terrace in a complex situation. However, this did not lead forward, and the case has been under way for now. Anders did not admit guilt. The claim from the NFF was around NOK 36 000 / EUR 4 350, which was later added to the original fine for careless blasting - where Anders again were asked by police to plead guilty or not guilty on the matter - even though he had already answered the writ that he is innocent. Not long after, he was called to court.
Where are the evidences?
So far we have not seen any evidence of any kind. No photo or video that proves that Anders has acted as NFF and the police are describing. Only the policeman's testimony speaks against Anders. Until now. We'll come back to that in a moment.
Why is a fine like this problematic?
When NFF is fined by FIFA, FIFA has decided to punish NFF because they have failed to ensure the arena against illegal pyrotechnics. This is a fine given from one organization to another. Just as the NFF commonly fines teams in 1st and 2nd league, not caring whether the fine is paid by the club, supporter clubs or persons - as long as they get the money. It proves that the NFF does NOT have the legal ability to fine supporters directly, so they have to fine the clubs. Unless the NFF themselves are fined. Then they'll do their best to pass the fine on.
The protesters who paid their way into the stadium to carry out the operation paid more in tickets fares than the fine from FIFA. NFF has thus earned money on this demo. It does not, however, prevent them to demand compensation for the fine as well.
Another issue is that this fine is given after it was used pyro also among the visitors, on another floor, in another stadium section. Does the NFF claim that Anders should pay for this as well? Yes. Espen Augberg, legal supervisor of NFF, says to NRK (Norwegian Broadcast) that they have "no concerns" about sending this claim to one person.
The fine is also measured after it was lit many flares by more people than Anders himself. Does the NFF expect Anders to pay for them aswell? Yes. No concerns there either.
Anders pleads not guilty. He has brought in dozens of witnesses who could confirm his story, 2 of which have been questioned before this trial. He has no right to a lawyer. He stands alone against the NFF and the police, and his opponent in court is a cop whose words can send people in jail alone. It is a horrible situation to be in, and Anders had this on his shoulders for half a year.
But thursdag the week before the trial, a video was sent to us.
The video shows the terrace from the first flares are lit until they burn out. They also show that Anders is taken by the cops, while NSA spokesman tries to talk them out of taking in innocent people.
The video proofs that Anders has spoken the truth when he claims he did not use pyro. Anders speaks the truth. The cop does not. The NFF has had Anders against the wall with a ban and a ticket of 4 350 EUR, on the basis of a false allegation and no evidence. NFF has persecuted and banned a young father who have done nothing wrong than to be a paying customer at the game.
The pictures below were taken from the video. The video in its entirety follows soon after, for those who need absolute proof. The pictures show Anders between his two comrades, in the top left corner of the group. The only time Anders is even close to a flare is when a flare rolling down the row behind him, and when he moves closer to the center where there are already lit flares, to be closer to the rest of the group while singing. He takes his cell phone out of his jacket to take pictures and is holding it in his hand rest of the time.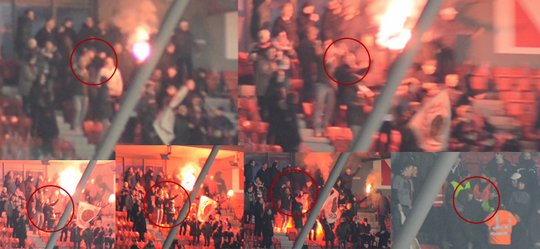 Now what, Anders?
Anders is lucky In the final hour conclusive evidence was published, recorded by ultras of another club. It makes it impossible for the NFF and the police to convict Anders the way they intended. Anders can, after six months with this weight on his shoulders, breathe a sigh of relief and go out and have a beer with his friends while they await for the next season of football. As a free man.
Now what, NFF?
2013 has been a horrific year for the NFF. NFF has on many occasions shocked the outside world with their actions, attitudes and irrationality. They punished the supporters collectively with their sudden ban of pyro in February, they tried to punish Lillestrøm for pyro in a friendly match NFF had nothing to do with, they broke a gentleman's agreement when fans kept their part of the deal and avoided pyro in 5 rounds, they and their prosecuting committee played a key role in the "transfer scandal" – that turned out to be completely legal – thus causing heavy losses for Stabæk and Vålerenga, they fired the head of the national team in an inappropriate manner, they threatened Strømsgodset and Stabæk with sanctions for pitch invasions respectively after winning the league title and a promotion, and they prosecuted Anders for six months without any evidence. You would not believe that to happen in any professional organization.
There is only one thing to do now. NFF should go out in public and apologize to Anders for the suffers they have caused him. They should strongly consider compensating him for his ban and court trial. And they should by all means avoid pushing the responsibility for their own actions onto someone else.
Regarding the policeman, who for six months has persistently claimed he saw Anders use flares - you should have gone to Specsavers (glass store for visually impaired). I hope no one else have suffered miscarriage of justice resulting from your mistakes. Perhaps you should make a phone call to Anders.
There's plenty to learn from this. You be warned, those who are tempted by NFF president Halléns ideology to just keep "looking forward", in order to avoid facing the consequences of their actions. After such a disastrous year one should look back, see all the things that went to hell and learn from it. And some might use the opportunity to clean out their office and get the hell out.
NSA will continue to work for the fans to have good conditions in Norwegian terraces. To be able to do this, we need to have a cooperation with the NFF. We try and we try again, but it is not always an easy job. We hope NFF takes some immediate action and decides once and for all if the fans are to be their most important friends and customers - or their sworn enemies.
We're watching over you. As long as I and the NSA is to be, no supporter will stand alone when exposed to abuse.
Never.
-Posse, NSA spokesman
Link: First article, NFF did not want to reconsider the trial even when the video was published, Another article
Sunday night, state prosecutor called Anders a few hours before the trial, saying the case was dropped. Now, the NFF is out in public, somewhat apologizing to Anders, but still leaning on the policeman who claimed he saw him lit flares. Anders is a free man and has received tons of support from fans and ultras all over the country.
Ultras-Tifo:
- Thanks to Posse for this article. He have done an amazing job for Norwegian supporters. NSA is an organization for Norwegian groups. Very important to stand together and fight against the enemies of football!