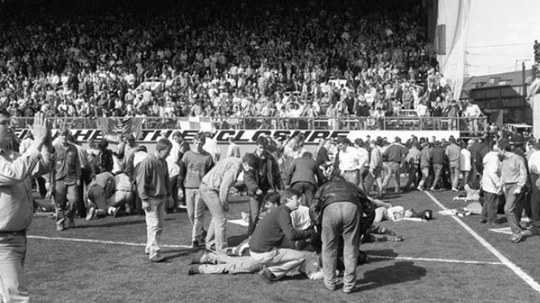 THE real truth behind the Hillsborough disaster was finally revealed yesterday — 23 years after the tragedy claimed 96 innocent lives.

An independent report showed police tried to cover up catastrophic failings by disgracefully smearing Liverpool football fans, pinning the blame on them and falsifying reports.

The police force responsible for a "monumental cover-up" over the Hillsborough disaster finally admitted: "We've got blood on our hands."

It also disclosed 24 victims of the 1989 FA Cup semi-final horror could have been saved if emergency services had acted faster.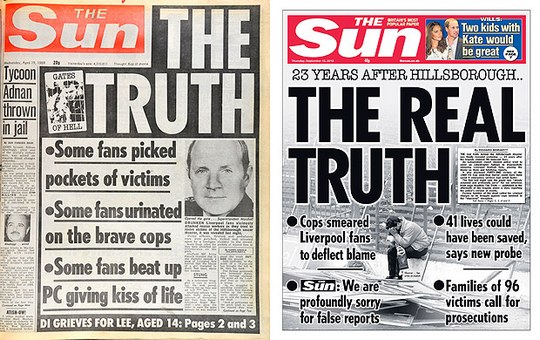 The report, compiled following a two-year investigation by an independent panel, found:

* up to 164 statements from officers were falsified or amended to shift blame from the police on to innocent supporters – with 116 having potentially damaging comments deleted.

* stricken fans, including children as young as 10, had their blood alcohol levels tested immediately after the fatal crushes to try to show they were drunk and out of control.

* checks were made on the police national computer of those who died in a desperate bid by police to see if they had criminal records "to impugn their reputations".

* senior officers and Tory MP Irvine Patnick put forward damaging and wholly untrue allegations to a Sheffield news agency – infamously published in The Sun – that fans stole from the dead and urinated on police.




The British prime minister David Cameron said he was "profoundly sorry" for the "double injustice" which had occurred.

Margaret Aspinall, who lost her son James, 18, said: "I think what the families have been put through for 23 years has been an absolute disgrace. They [the police] were the liars and we were the truthful and innocent ones and it's been proven today. The apology doesn't make us feel better because we are still and always will be the losers at Hillsborough." She added: "The families and supporters were the eyes, the ears, and by God, we were the voices and we used our voices to get to this stage and I'm so proud of all our families for that."


The former Labour Cabinet Secretary Jack Straw infuriated Conservatives last night by claiming that part of the blame for the cover-up rested with the then Prime Minister Margaret Thatcher, who he accused of protecting Yorkshire police to ensure their support against striking workers such as coal miners.