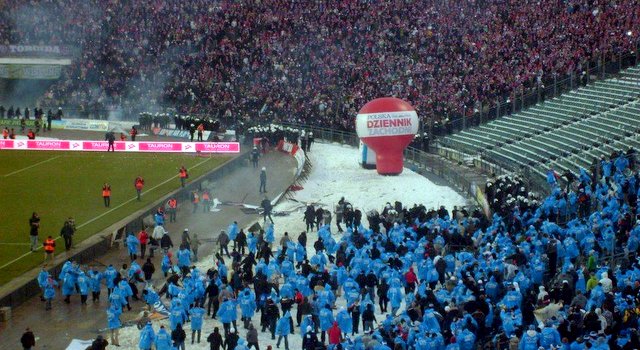 Poland: Derby of Silesia!
Match report written by one of our follower "Giorgio".
Ruch Chorzów 0:1 Górnik Zabrze (Great Derby of Silesia-Poland) 28.02.2009.
Górny is an historical region in south of Poland, close to the boarder of Czech Republic. In this area it lives about 5-6 millions people. This region is famous because of industry and coal-mines. There is many big cities with many popular football clubs. In this specific territory almost every district has his own football club, so if you want to support your club you should have character. Nowadays Ruch Chorzów and Górnik Zabrze don't have good teams but in the past, year after year, these two clubs scored championships tittles and played really good in European cups.
There is a huge number of fans supporting Ruch and Górnik, therefore they have to play the "Great Derby of Silesia" at the biggest stadium in Poland, Stadion Slaski.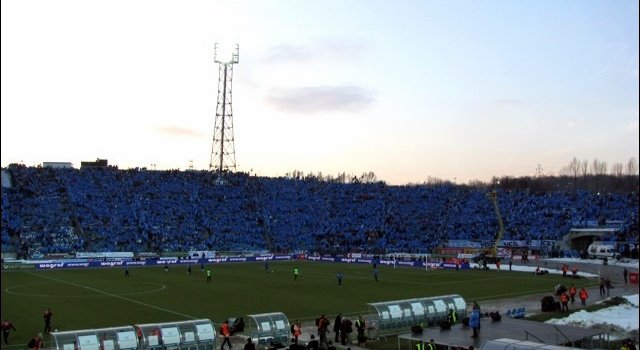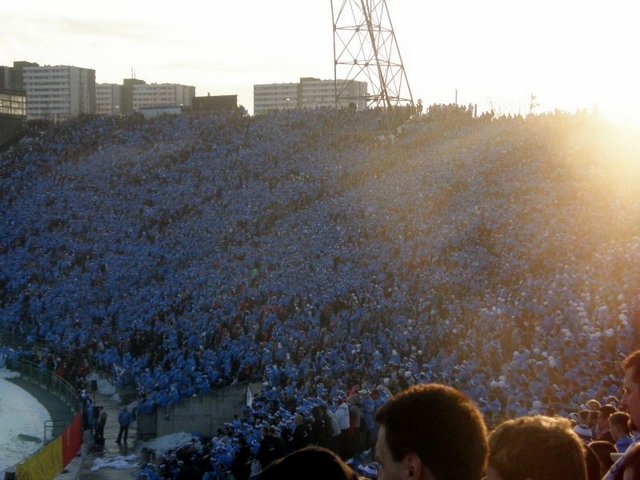 After the success in the first derby in the big stadium all supporters in Poland waited for the second match between these two teams at Slaski stadium. Many friends from other clubs attended this match, example from Legia as well as 2000 fans from Widzew Lodz (friends of Ruch Chorzów).
It was huge a traffic jam in the city, near the road we saw few small fights between fans who were going to the derby. Guests from Górnik Zabrze got 7500 tickets for this match, but personally I think on their sector it was much more fans. Rest of stadium (about 30 000) was for Ruch supporters. All the fans of Ruch wear blue foil jackets which looked impressive.
Match started with really loud scream of the whole stadium "Ruch Ruch HKS!!!".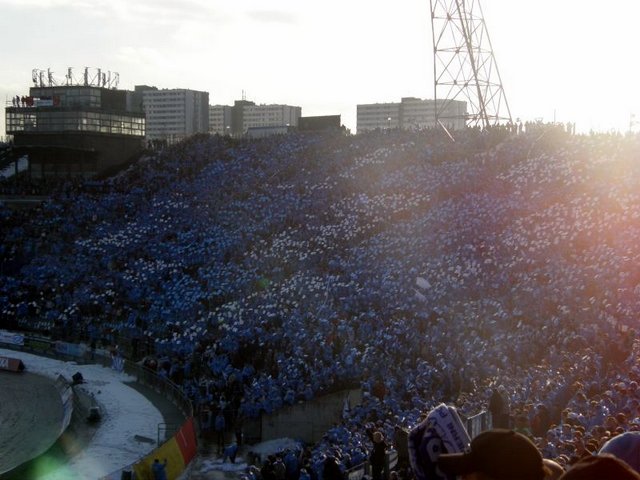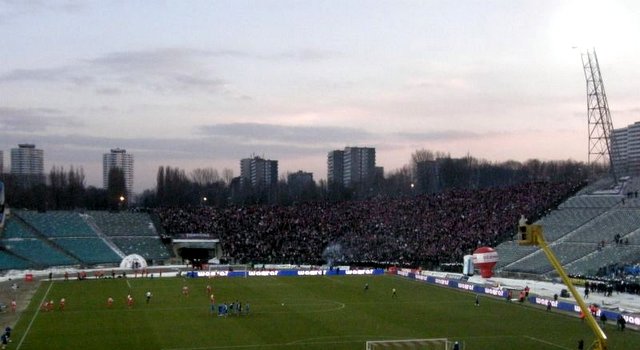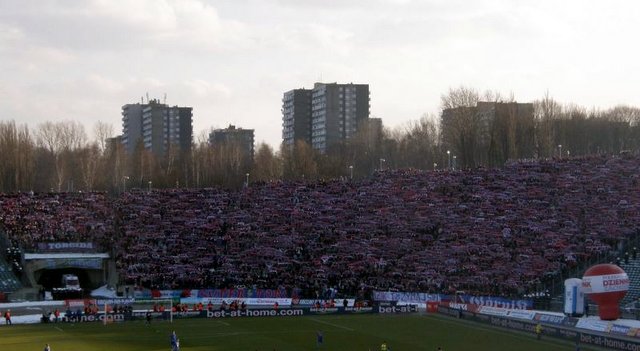 Supporters of both teams had prepared really good for this match. Both sides were singing loud, it made such a big noise so when both sides supported it was difficult to understand words in their songs. Scream and noise was fantastic! Górnik and Ruch have biggest fan-clubs in city Ruda-Slaska. Both fan-clubs prepared insult- banners and choreographies.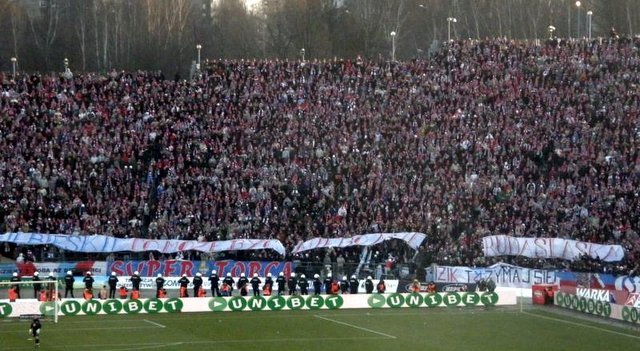 Match on the pitch wasn't interesting, but fans in the stands did a good job. First TIFO was displayed by Górnik Zabrze in the end of first-half, they celebrated 10th anniversary of their group "Torcida". It was a huge painted flag with inscription: "10 lat za nami, wciaz jestesmy wariatami"(10 years past but we're still crazy).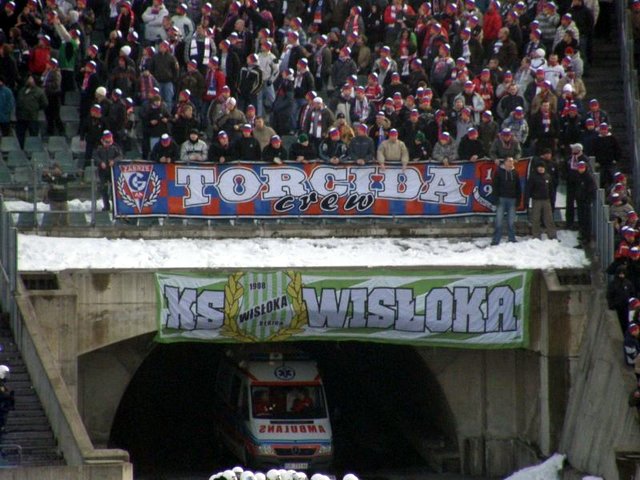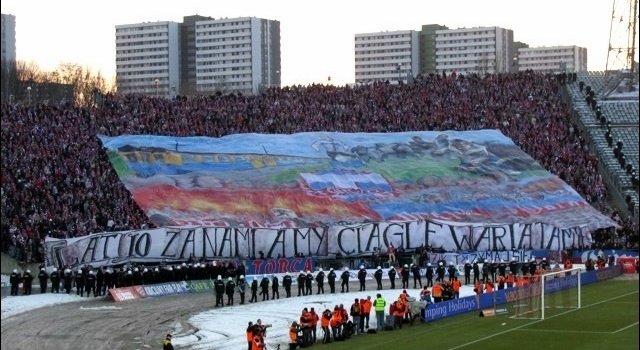 During half-time something strange happened near sector of Górnik's fans. They threw a lot of firework at the security. After a while hundreds of blue supporters from Ruch attacked security and police. For few minute near the pitch it was a great fight with the security. Nice riots!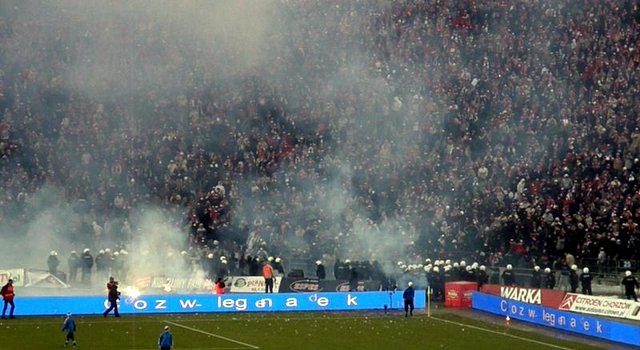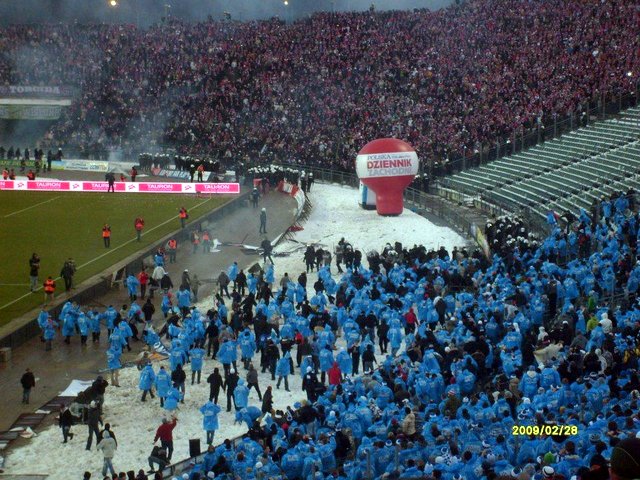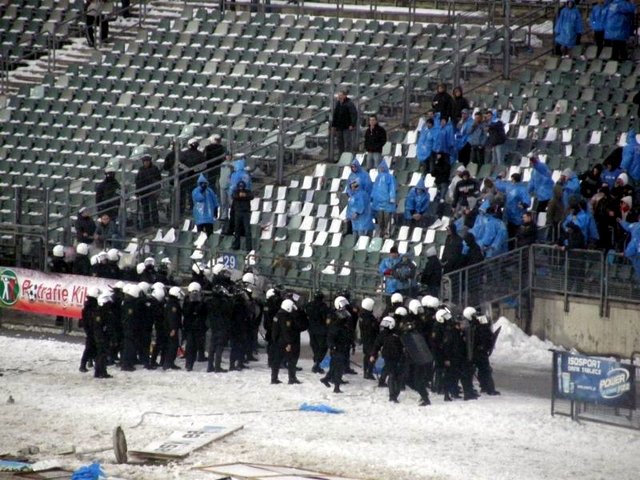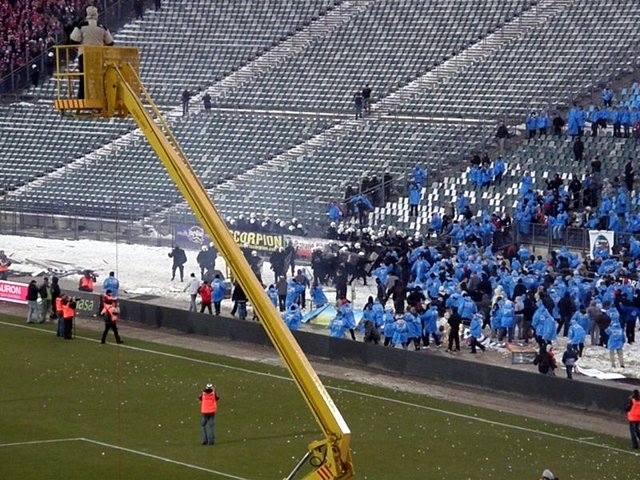 When situation calmed down the referee could begin second-half. After few minutes Górnik Zabrze scored their first away goal in this season! They are the last team in league but woke up for the derby!
Loud support in the stand from Zabrze! Since this moment for whole second-half they had fantastic party in sector. Loud screaming and dancing without shirts all the time!
Ruch ultras groups had problems after the riots with synchronized songs and chants in their sectors. But they displayed another fantastic TIFO. Huge painted flag and blue foils made an impressive effect. Shortly after they burned a large amount of pyrotechnics. As they say during match they burned exactly one thousand flares and one thousand strobos!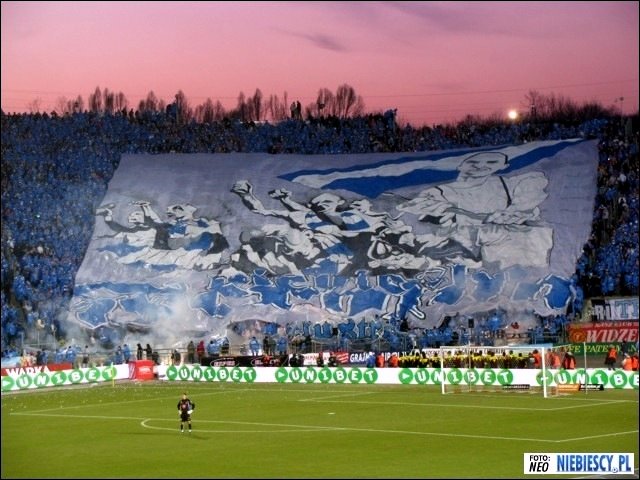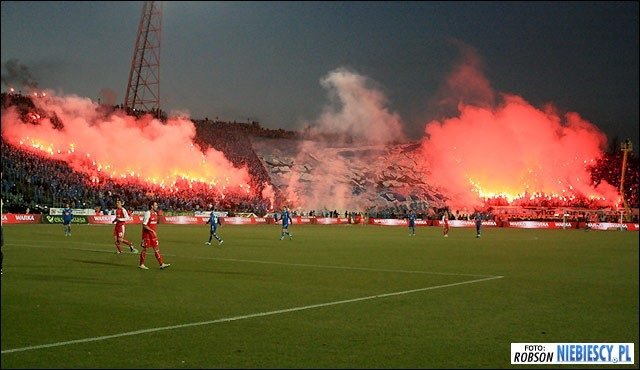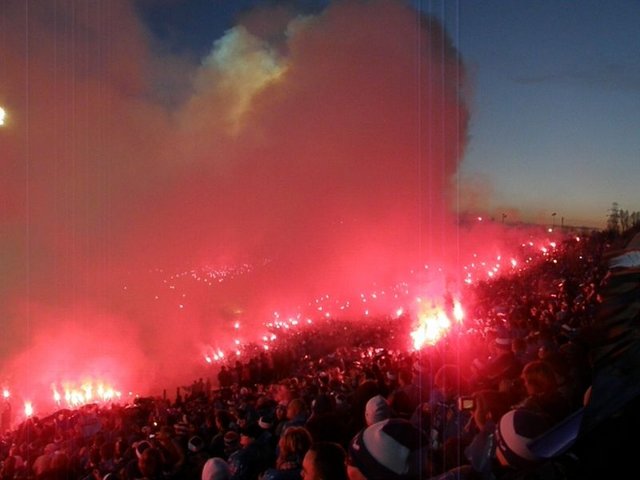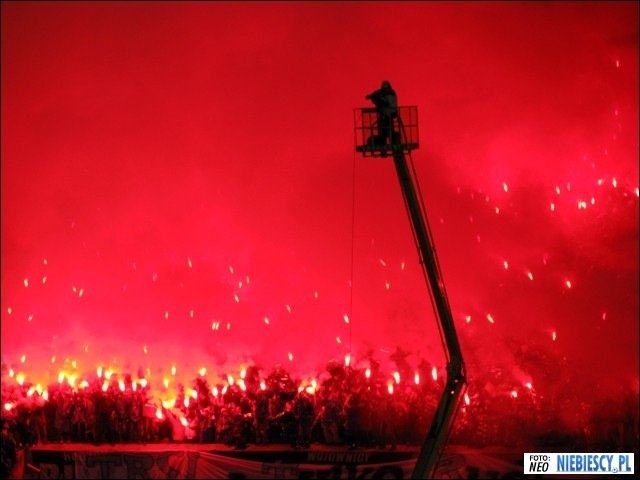 When it was close to the end of the match the sound from Górnik's sector were louder and louder with every minute. As I said, fan-club from Ruda Slaska prepared TIFO and… also fantastic pyro show.
When Ruch ended fun with pyro, Torcida of Górnik burned crazy number of flares and strobos. On the banner they painted "W jednoœci sila"(together strong).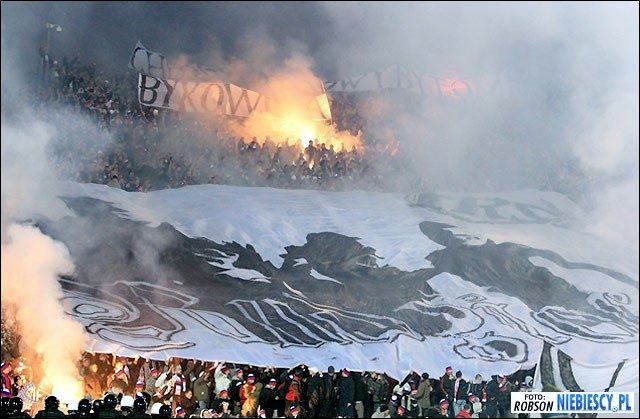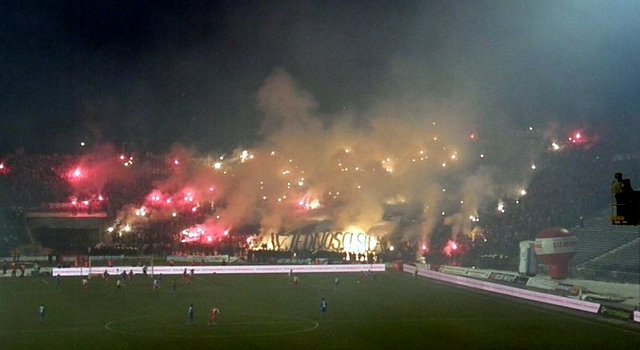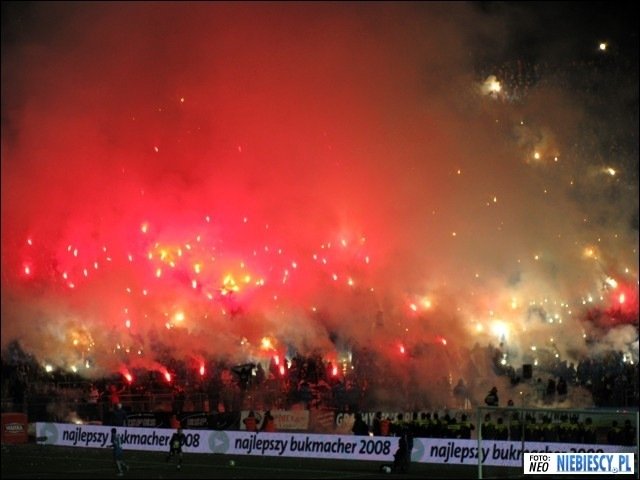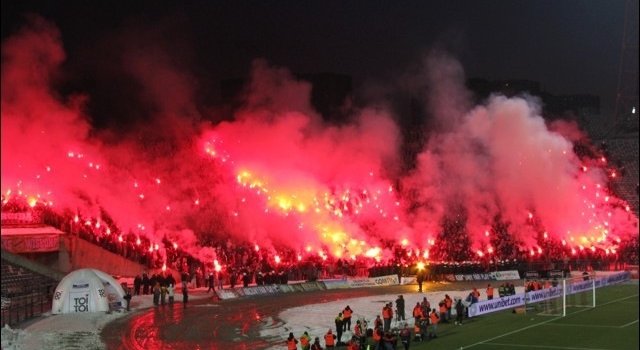 Finally Górnik won this derby 1:0!
Before, under and after this derby, there were so many fights and riots between fans in the whole region. Now TV and newspapers are talking about scandal and bad hooligans. But I know myself… it was the best derby in Europe.
VIDEOS:
Source: wyjazdowo.eu , niebiescy.pl

Thanks to "Giorgio" for this report.