Interview with the main group of Ferencvaros.
Interview with the main group of Ferencvaros.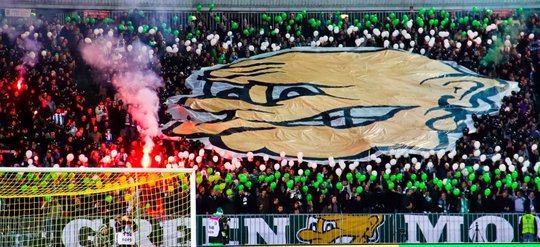 1. Please tell us of the beginning of the group. How did you start the group? How many members did you have?
Our group Green Monsters were founded by a group of friends in 1995. We don't want to speak about the interesting circumstances of the founding. Maybe we'll write a book about it later. The average age of us is between 18 and 40. We have economists, laborers and students within us. We are not together because of the same district, society – Only Ferencvaros. We believe that's the reason of our long activity.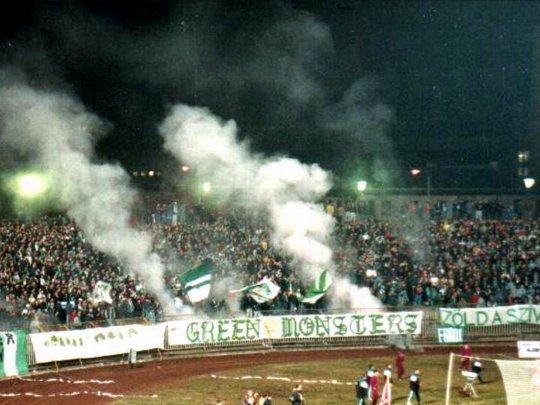 (Ujpest - Ferencvaros 1995)
2. How much influence does your Political opinions have on the group?
As a group we don't participate in political life, but of course we are patriots and right-winged, just like every supporter of Ferencvaros. If we would dismiss this opinion we would spit on our clubs whole history. In 1956 supporters were active participants of the fights against the communist repression.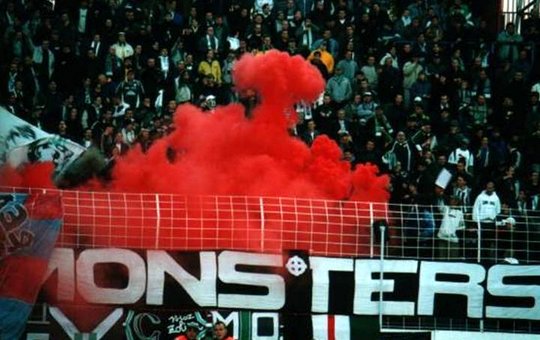 3. Who can join your group and what's your mentality?
Relatively we are a 'closed' group, joining us is not a single event but a long process. After all we don't reject anybody, but you have to fit to some requirements. Such as you have to stand with us for a longer time, you have to prove yourself. It is necessary to think about Ferencvaros as a life style.

We consider ourselves as ultras, but we stand for Ferencvaros and ourselves in every level. However there is a malformed doctrine of ultras in Hungary. Which says ultras are supporting, hooligans are fighting, which is not accepted by us. After all where could we positionate ourselves? Far from the others.
For sure, we are the number one ultra group of Hungary's most popular and successful team. We keep ourselves to this and try to stay the best!


4. What kind of relationships do you have with other groups of your club?

We have a normal relationship with every group of Ferencvaros and we work together on cases which affect the whole scene of Ferencvaros supporters.


5. Which groups were your friends and which groups are still in contact with you?
We have positive relationship with Zalaegerszeg in Hungary, no one else. We don't really care about other teams and the "foe" marker fit only on Újpest, but for us games against Kispest, Diósgyőr, Videoton and Debrecen are also prominent. We have a positive relationship with Rapid Wien, with Tornados Rapid we have a friendship. We have to mention Baltyk Gdynia who we don't meet too much because of the long distance but we have a friendship with them. And as Hungarians we consider every polish group as friends.


6. You are active members of Hungarian supporting scene. What do you think about the Old School days and the current situation? Which one is the 'stronger'?
Police is much more prepared, that whittled away a couple supporters but made us much smarter. At all we can say Hungarian movement changed a lot on national level, but we think Ferencvaros stayed on the same level.


7. There were many riots by fans of Ferencvaros, but which one would you mention?
We don't have an exact answer to that, because in the last 19 years there were couple generations. We could mention our attack on Millwall or when they came to Scotland for us. We could speak about the riots against Hajduk Split or arranged fight against Dinamo Kiev. It would take a long time to list them and we don't want to highlight any of them.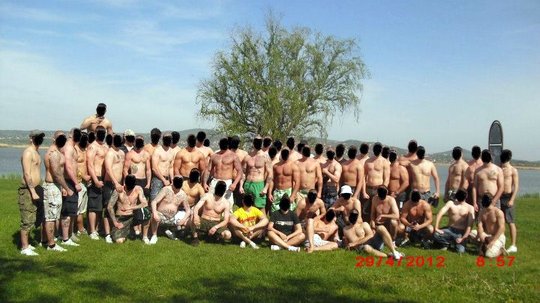 8. Nowadays there is not many fights inside stadiums. Do you prefer arranged fights? Would you like to keep fights away from the stadiums and make matches more attractive for families? You had a text message 'Rivals, ustawka anybody?'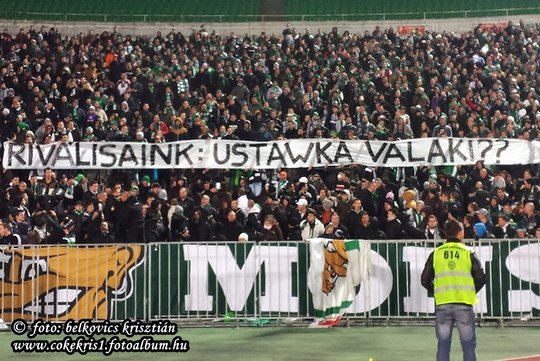 Old school times were in a different age with different circumstances and with different people. We are proud of them, because they made us notorious which has to be done by us. Of course nobody wants to get into prison for useless things, after the last derby hundreds of us were wanted by police because of the incident inside the stadium. Being attractive for families depends more on quality of our game than our behavior.
B-Közép (B-Middle or Sector B) which were founded by Ferencvaros supporters in 1928 is one of the oldest scene of supporters, even if it is not so advertised like Torcida which was founded in 1950. History of Sector B had many groups and many riots but families and ordinary people were on the games. The mentioned text concerned about that our 'rivals' don't really accept such fights. An 50 vs. 50 against Ujpest is just a dream, but that 50 could be 150 for us. That's why we are looking for fights abroad. If we stay in Hungary the international scene will leave us behind soon.


9. What's the situation in Budapest, do you have any real foes in Hungary?
Brigades of Budapest are still the most significant of Hungary but according to their numbers and attitude our main position is doubtless. Our main rivals only hunt normal scarfers, they don't represent any danger for us.


10. How do you prepare to the derbies against Ujpest?
Clearly we prepare for 'the derby' in heightened mood. Think about our choreographies or other fights. However our old enemies did everything to consider that game as an average game. They didn't succeed we still prepare as before and try to make a fantastic mood inside the stadium.


11. In the last couple years many things changed around Hungarian football. How much does the new laws and MLSZ affect your work/life?
MLSZ is against the supporters, they try to make the supporter life more difficult. But they can't get rid of us. We think they are on a wrong way, but we walk on ours own.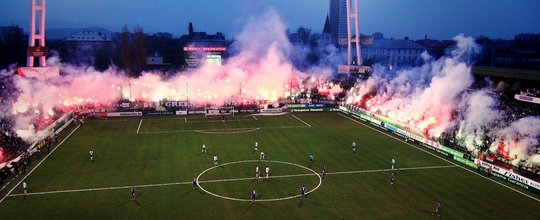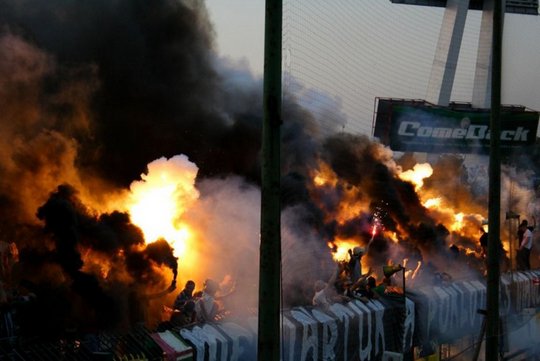 Thanks to our friends from the web site "Hungarian Ultras" for this interview.