Group supporting Slask Wroclaw in Poland.
Group supporting Slask Wroclaw in Poland.
- Please introduce your group for us.
- We're young group compared to other well known groups in Poland. Group was formed in 2008 and part of formers was from previous group, Ultras Slask. We're ultras group so except of activity on stands (making tifos, making support etc) we're make sometimes graffiti or projects of gadgets (stickers, clothes etc).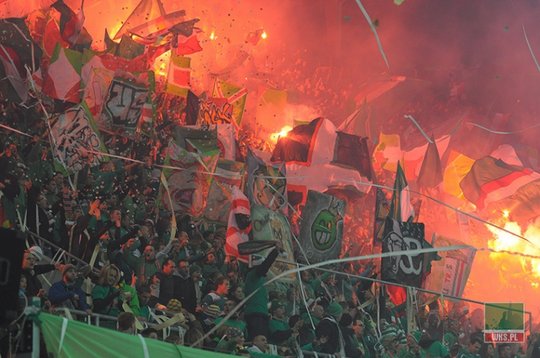 - You are among the top groups in whole Poland. How did you made that image of you?
- As we said, we're a young group and we're trying to improve our skills with every TIFO, correct our mistakes and bring new standards to our stands. We would like to be among the TOP groups in Poland but for this moment, we're too young group to say it.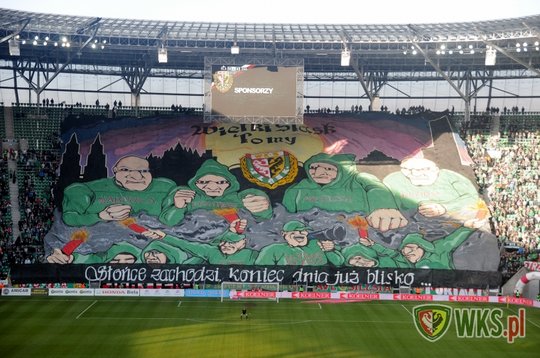 - Do you have any political view as a group, and is there any place for politic on your stand?
- Of course. We're rightwingers, but on stands mostly our political actions are adressed against goverment, medias, cops, whole mainstream. We also care about traditions, history, patriotism. We're making tifos connected with historical anniversaries, we remember about heroes. Also we're local patriots and we're helping people in Wroclaw or our fan club cities. Donating blood, making gifts for poor people, and other charity actions like collecting money etc.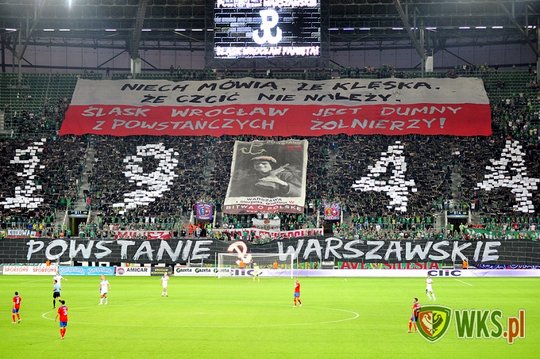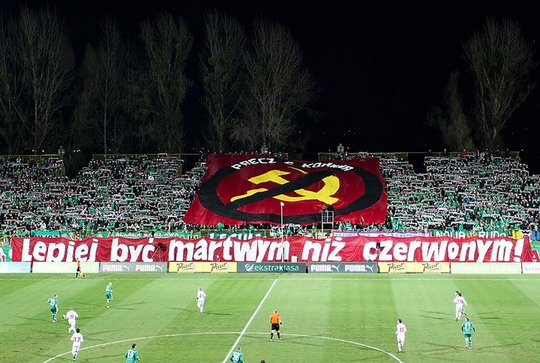 - Tell us about the activities of your group outside Slask Wroclaw. Do you meet each others in pub, going to fitnes and stuffs like that?
- We're group of friends so of course we're meeting. We know that we can trust each other so we're meeting almost every day on training, school, in the city, some clubs etc.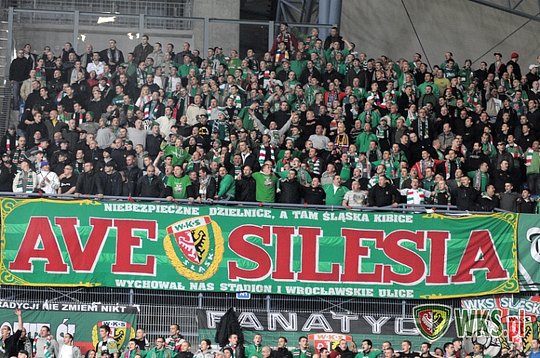 - What can you tell us about other groups of Slask?
- Other ultras group is Ultravaganza, which mostly is making graffiti but sometimes they're making their own tifos. We have also few clearly hooligan groups which are taking part in other activities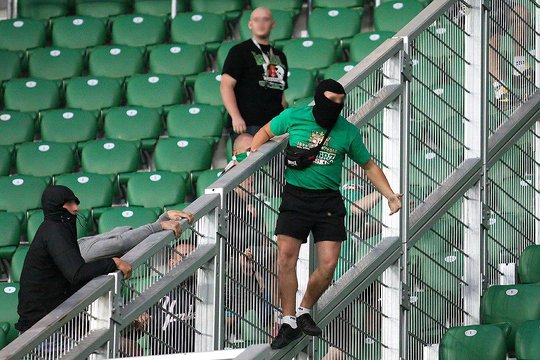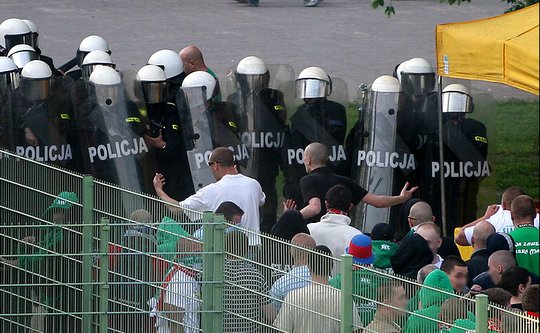 - Who are your biggest enemies? How did your rivalry start with them?
- We are a big club with one of the oldest ultras movement in Poland so it's natural that we have lot of enemies in whole Poland. We don't like Widzew Lodz, our rivalry is old but climax was in 2003 when they killed one of our fans. About other clubs, in the center of Wroclaw was one of the biggest and most famous fights in Poland. With us were lads from Lechia, Motor and Wisla and on the other side were lads from Arka, Lech and Cracovia so this clubs are also our big enemies.

- And who are your friends?
- We have friendship since long time with fans of:
- Lechia Gdansk, Mied¼ Legnica, Motor Lublin ,  SFC Opava from Czech Republic and Wisla Kraków.

This friendships are not just contacts between groups but friendship of everybody. We're supporting each other on home and away games and in other actions.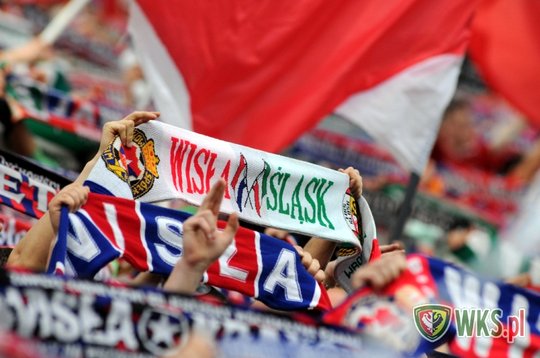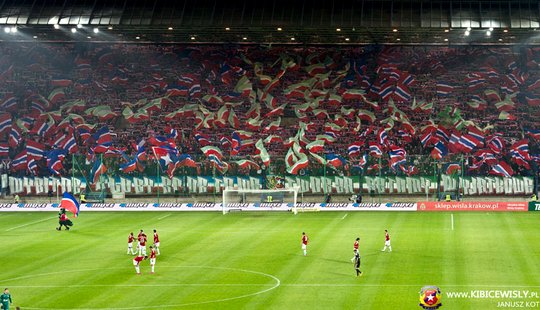 - You made a lot of good trips in Europe last few seasons. Which were the best of them? Most interesting as visit and support?
- One of the most interesting away games was to Dundee (Scotland). It was first away game in Europe League since 24 years so pressure was big, also Dundee fans lost few flags in Wroclaw so this just made pressure even more bigger.
We arrived with about 3000 guys and we took this city for one day. Also very good away game was in Hannover. We lost 5:3 in Wroclaw but even without chance to be in next round we came to Germany with almost 2000 lads. During game we made great atmosphere, used some flares, even that we lost 5:1 we were very loud.
Another very good away game was in Podgorica. Group of around 300 fans (from 750 in Whole Montenegro) was stopped near city, some of them ran away and hijacked a public bus and forced driver to go to the stadium where made big riots, broke the gate, fought with cops (some of them were KO, one lost ear). After the game special forces escorted us to the border and year after they didn't let us entering the country.


- Where was the police worst of all the places that you have visited?
- We have bad experience with Spanish cops which are very aggressive and liked to hit with their batons in our head. Cops from Balkans are also really bad, especially that in Montenegro they were drinking alcohol and then were aggressive, but we have to say that polish cops when we compare them with other European police forces are one of the worst. They love to use rubber bullets and gas.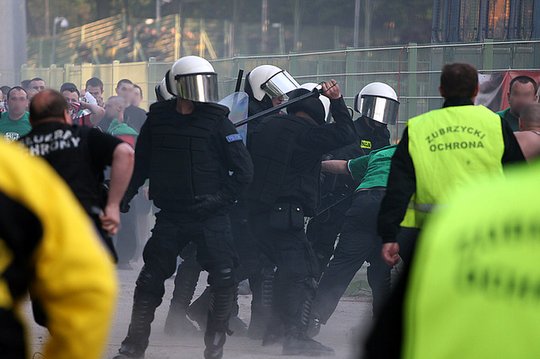 - What can you tell us about the scene in Poland? Who are the best groups in your country?

- Our scene is big and aligned. We mean that Polish scene have a good level and is very interesting because we have lot of high risk games and lot of good firms who are active in many aspects, but when we talk about TOP groups we have to say about Wisla, Legia, Lech.
Worth of mention is that even clubs in lower divisions like 3rd and 4th have ultras and hool groups which are doing a good job. In lower divisions good ultras are Beskid Andrychów, they are making nice tifos.
Our scene is really big, specially web of friendship and contacts so for foreigners it's sometimes difficult to understand. Nowadays we have a lot of problems with restrictions and cops which are closing away sectors, ultra stands or sometimes even whole stadiums are closed, and they're giving away bans. We received away ban for almost 7 months. Since may to the end of year.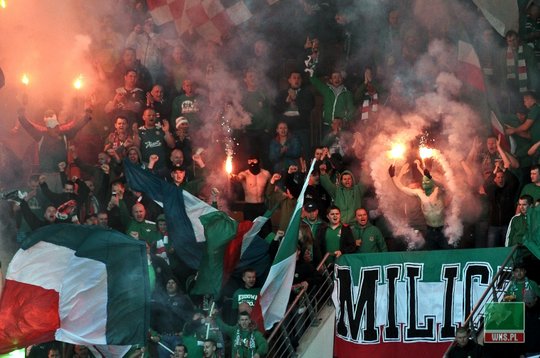 - And about Europe? Give us your personal top 5 of Europe and tell us in 5-10 words why do you think they are the top 5.
- It's difficult because every country and team has his own different style but we appreciate spontaneous pyro shows and original cardboards.
Some good Ultras are:
-Rapid Wienna which are making really good tifos, many presentations during one game is really great
- AS Saint-Etienne which are also making very esthetic's tifos with lot of details
- AC Milan for cardboards. When we were younger everybody was delighted with their tifos and we're looking on them with nostalgia
- Crvena Zvezda for spontaneous actions, chaos, lot of pyro, and making support on even water polo matches as well.

- Panathinaikos for same reason like Crvena.
But we have say that there's much more good groups which deserve respect and are making good shows like for example Basel, Genk, Rijeka, and Vojvodina. We think that specially Swiss and Austrian ultras scene is underrated.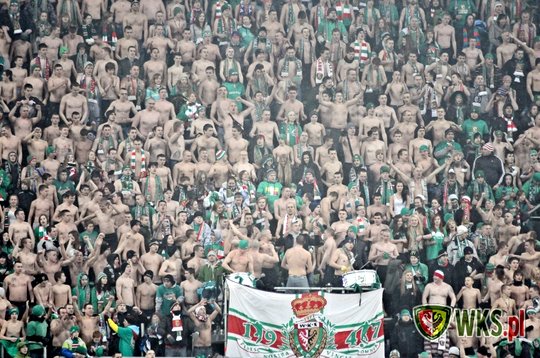 - As a supporter, where do you want Slask to play away, that never played before, and why?
- We think that Balkans are good place for away games. We have been on the Balkans but not in every country and we think that games in Croatia, Serbia or BiH could be great and interesting. On the stadium and on the streets.
- What would you like to say to all the supporters reading this?
- Fuck UEFAand all restrictions. PDW. Jebac zydow maczetami.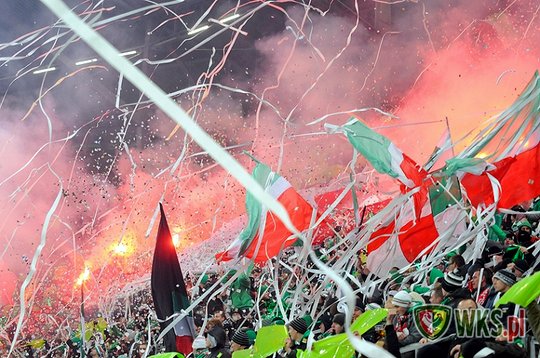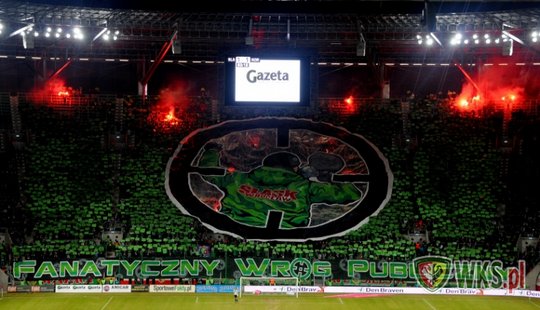 Source for interview: www.ultras-bulgaria.net