We talked with member of Union Bears.
We talked with member of Union Bears.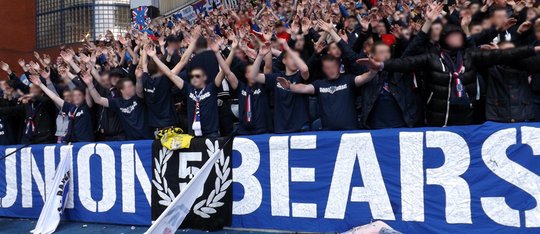 Who are you?
Hello, my name is Ross, I live just outside of Glasgow and I've been attending Rangers matches since I was a child. I became a member of The Blue Order in 2005 and started attending matches with the Union Bears in 2007 in the groups first few months, I officially joined in early 2008.

How and why you choosed to support Rangers, but not Celtic for example?
As a child I was brought up as a Rangers supporter and every member of my family past and present have supported Rangers so you could say its in my blood. This is usually the case with any football supporter in the West of Scotland, you're either born supporting Rangers or Celtic.

Tell us about the history of Union Bears.
Our group was formed in the summer of 2007 to help bring back atmosphere and create colour inside Ibrox (our stadium). Originally we were located in the Copland stand due to it being the traditional Rangers End of Ibrox and the place founding members wanted the group to be.


We went through four tough seasons up there with many problems from the police, stadium security and fellow supporters which made some matches very unenjoyable. In October 2008 the majority of our members cancelled their season tickets due to the way our club was being run by the chairman at the time (David Murray). After long discussions some members wanted the group to stop attending matches until David Murray had left the club but in the end we came to a decision that the group would carry on and it would be each members individual choice if they wanted to attend matches or not. Only a few of us kept our season tickets and carried the group on, we produced a few small actions that season despite having literally no members in the stadium or a lot of money. That has no doubt been our toughest season since we formed in 2007. Looking back now its lucky that we carried the group on because it was not until May 2011 when David Murray finally left the club.

In August 2009 we brought in new members which was a massive boost at the time and we managed to have a good season together despite still being low in numbers and we pulled off some more visual actions.

Summer 2010 came and we had a lot of interest from younger people who wanted to get involved with the group and we transferred them into our section. We faced a lot more problems near the end of 2010/early 2011 from police, stadium security & fellow supporters and near the end of the season we made the decision to leave the Copland and move to the Broomloan Stand to a new section alongside The Blue Order where we could stand and support the team for 90 minutes with less hassle from the police, security & fellow supporters and get the group to the point where we wanted to be at.

What is the UB style of support?
I'd say as a group we lean towards the European style of support but we definitely still have some traditional British style mixed in.

What is your groups political view?
Our group is usually non political but we support the United Kingdom staying together so are very much against Scottish independence.

Are they any other groups of Rangers and what is your relation with them?
We share our section with a supporters group called The Blue Order, in the early days of our group mostly all of us were ex members of The Blue Order so there is some history between both groups. We have a workable relationship with them and have in the past done joint displays in the stadium but both groups have a different style so the majority of the time we work as separate groups.

You are now playing in the Scottish 3rd Division, how is the season going on?
Its a big change from playing in the top division to going to the very bottom and playing teams that are not well known and have very small support. There are not really any exciting matches or rivalries so some matches have been slightly boring to watch. The only advantages are that most of the Division 3 away grounds still have terracing so its good to experience that and the trips have been much longer which means there's more alcohol time and better away days!

If we take a look at the matches so far in the season, what was the best game on the terraces, both at home and away?
Our best home game this season has to be from September 2012 against Motherwell in the League Cup when we beat them 2-0, the atmosphere was amazing and the full stadium participated at times which was good to see.

Away wise, I enjoyed the match against Brechin in August, mostly due to the amount of pyro set off before the match, pyro isn't used in Scotland much due to the strict laws and surveillance within the stadiums but at this match a decent amount was used with very little hassle from the Police.

How do you travel to away games?
Our members usually travel on their local area Rangers supporters buses but sometimes we'll travel together on the train or one particular bus.

What is the UB's relation with the club owners?
We don't really have any sort of relationship with the club owners although they are currently in the process of selling our stadium name as part of a sponsorship deal, we are totally against this and think this is a disgusting act by the owners for some quick money without any regard for our clubs traditions or history.

Tell us about the police and the stewards.
The Police in Scotland are very strict towards football supporters, you can actually be sent to prison for singing a song or chant that someone "might consider offensive". Regularly our members are harassed by the Police and stewards at matches and some of our group have been banned from all Scottish football matches and have court trials coming up in the next few months for completely stupid unjustified reasons like banging a drum next to a Police horse. Recently some Police officers have started calling our members by their first names and mentioning where our guys work to try and intimidate us. The Police have set-up a specific football unit called "FoCus"who constantly record us at matches and are desperate to destroy our group and the Scottish Ultras scene. In some cases if you are banned from football matches you are required to sign in at a Police station during every football match to ensure you are not attending the game. I'd say we currently have the toughest laws regarding football in the world.
The stewards are not much better and regularly cause problems, many seem to forget that they are not members of the Police.

Except Celtic, do you have any other enemies that you don't like or hate, and what can you tell us about them?
Club wise we are also enemies with Aberdeen Football Club and Hibernian Football Club, these rivalries have been around for a number of years now and were made stronger by the casual scene in the 80's and 90's. Hibernian (known as Hibs) are also traditionally a Catholic team like Celtic and we are traditionally a Protestant team so that makes the rivalry more fierce.

And do you have any friends?
Our club has a fans friendship with Hamburger SV which has existed since 1977 when the Hamburg Loyal Rangers Supporters Club was formed. As a group we don't really have any 'official' friendships but we do have links with Chosen Few Hamburg and one of their sub groups - Cider Express Crew.

In February around 30-35 of us went to Hamburg to see the match against Borussia Mönchengladbach and we also visited the year before with similar numbers for the match against Werder Bremen, members from Chosen Few in smaller numbers have visited us over the past few seasons now and our members have also made some individual trips over there in smaller numbers as well so the link is definitely growing between both groups.

What can you tell us about the scene in Scotland?
The Ultras scene in Scotland has only existed now for a few years and is still very small, there are only really two organised active groups in the country – ourselves and the Green Brigade (Celtic FC) with a few smaller less organised and inactive groups at other clubs. Over the last two years the scene has began to grow more and both ourselves and the Green Brigade have received a lot more interest and support from fellow fans. The Green Brigade were formed in 2006 and since then have grown to be very well known in the country even out-with football fans due to controversial actions they've pulled off regarding our club and the British army. Currently, they are facing huge problems with the Police and many of their members being banned from the stadium and also facing court trials.

Last weekend (16th March) they had organised a corteo in support of the Celtic supporters that are currently banned from the stadium and around 200-250 Police turned up with riot vans, dogs and a helicopter, the Police blocked them in and did not allow them to march and soon began striking them with their batons and arresting people without any specific reason.

The first Ultras group in Scotland - the Red Ultras (Aberdeen FC) who were formed in 1999 disbanded in 2010 but a few months ago they released a statement announcing they were returning to the stadium, they've yet to do anything since their return so far though but hopefully they return properly and become active once again.
At Fir Park (home of Motherwell FC) there is a group of supporters that stand together singing constantly for 90 minutes that produce some visual actions as well, they are not under any group name but the majority are ex members of the Well Bois (a Motherwell Ultras group that are no longer around) and still refer to themselves as "Bois".

Give us your personal top 5 Ultras groups and tell us in 5-10 words why do you think they are the top 5.
In no particular order:

Ultras Rapid - Amazing frequent choreographies
Gate 13 - Great style with some amazing pyro shows
Gate 4 - Very loud with an old school style
Grobari - Crazy fans with true passion and mentality
Banda Noantri - The old school British style in the Curva Nord is amazing.

Let's get back on Rangers. What's the match that you'll never forget, and why?
The one match I'll never forget is the UEFA cup final in 2008 against Zenit, although we lost I'll never forget that feeling inside the stadium when the teams came out and the shiver went down my back and it sunk in that I was actually there witnessing it. It hurt for weeks after it because we didn't win but I'm lucky enough to say I was there.

How do you see Rangers going on in 2-3 years?
Hopefully we'll be back to normal signing new players and winning trophies like the Rangers we all know.

What's your biggest dream about Union Bears?
One day I'd like us to return to the Copland Stand to a safe standing section, that would be a dream come true.

And about Rangers?
I'd like to us win a major European final again and witness this one.

As a supporter, where do you want Rangers to play away, that never played before, and why?
We've played mostly everywhere in the world but it would be good to play in Serbia against Partizan Belgrade again and attend the match to witness their support.

What would you like to say to all the supporters who are reading that? (last free words of you)
Football is for you and me, not the fucking industry. Fuck modern football!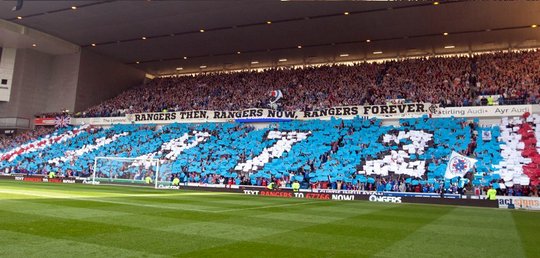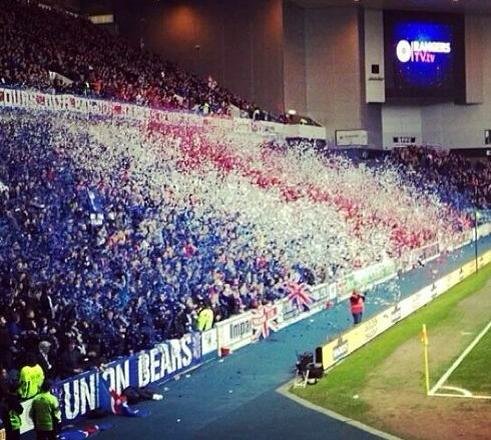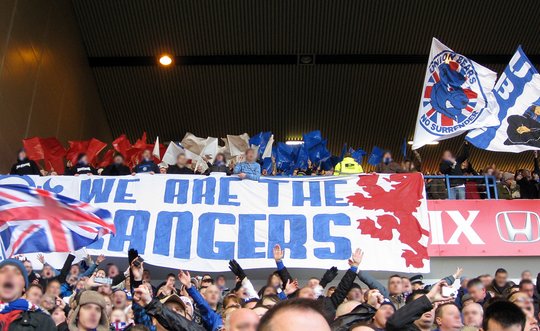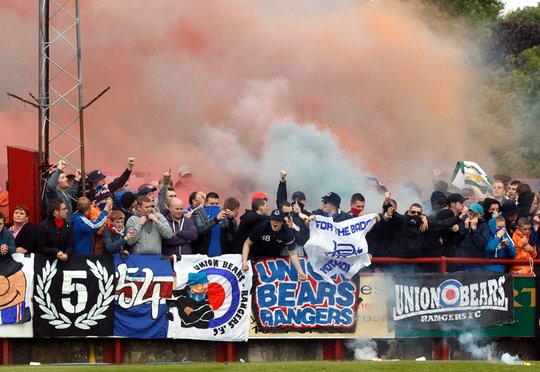 Interview was given to ULTRAS-TIFO.net and ULTRAS-BULGARIA.net.