Interview with YBA who recently celebrated 10 years.
Interview with YBA who recently celebrated 10 years.
After 10 years with activity in the Belgium scene it is time for an interview with Yellow Black's Army!
> Yellow Black's Army celebrate 10 years in February. Could you tell us in short how the group
started?
YBA was born in 2003 as the child of a small, but committed group of friends who wanted to make the fanatic supporter culture in Lier revive again.
After the former "Wild Side" was extinguished, a vacuum had emerged where youngsters, full of engagement and passion for their club, used to express the love for their club by means of banners, vocal support and organized tifo's. To identify their selves as the "kop", these friends printed their own hoodies and would meet up each time at the same place in the kop to attend the games.
> 10 years already gone since YBA were born, please show us how you celebrated it:
For our celebration we made a tifo to introduce our new logo and give a festive 'farewell' to our old logo. This logo will still be used in the stands but we thought it was time for a new logo that was better recognizable. We made 2 big banners together with many old and new members. When the tifo was finished we transported the banners to the stadium. It took a lot of people to maneuver it in the van. Because it was to bog we left it at our sector. Sadly enough the day before the game some 'visitors' destroyed the complete tifo with Stanley knives and the choreo seemed lost.
But with a lot of help from all group members and also a few members of PCL we continued the work at night and at about 1 a.m. the damage was fixed. The following day we did our tifo and it was the best feeling ever. The way a celebration should feel: victory over all obstacles even when your team loses 0-2 against the archenemy!
Making of: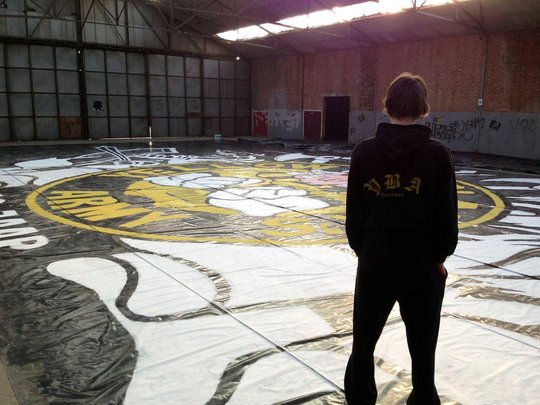 Damage done to our tifo: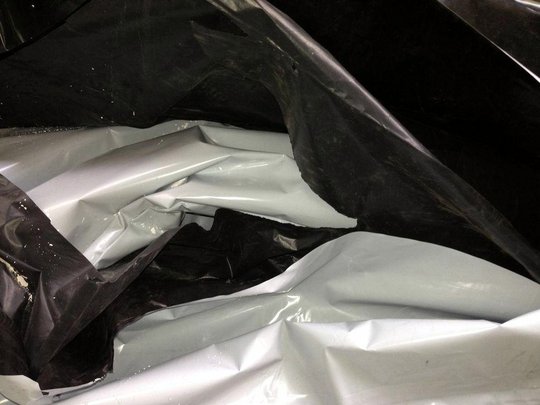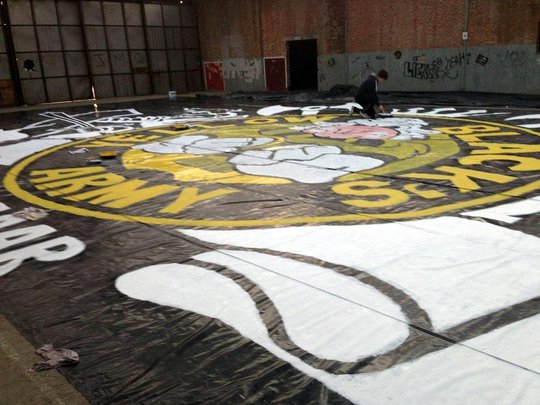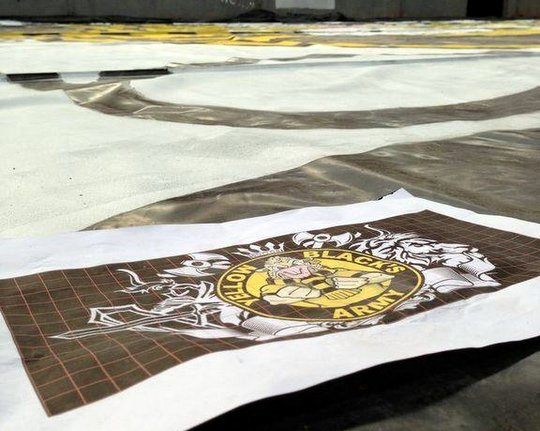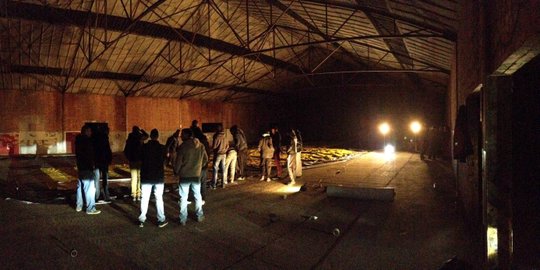 Tifo: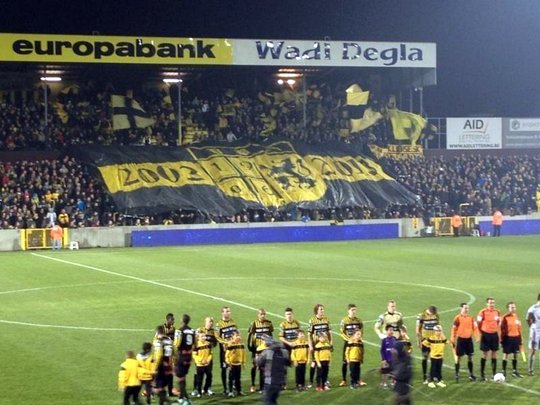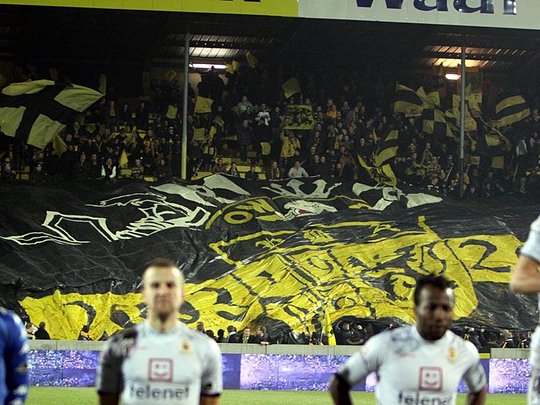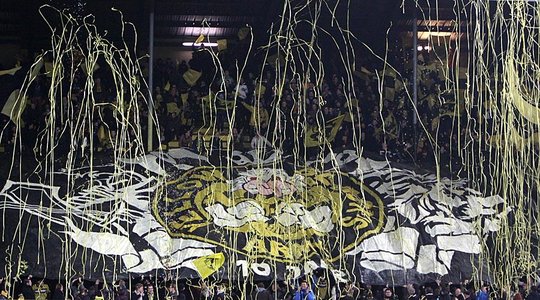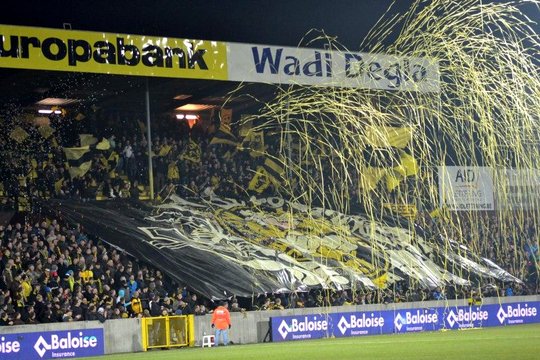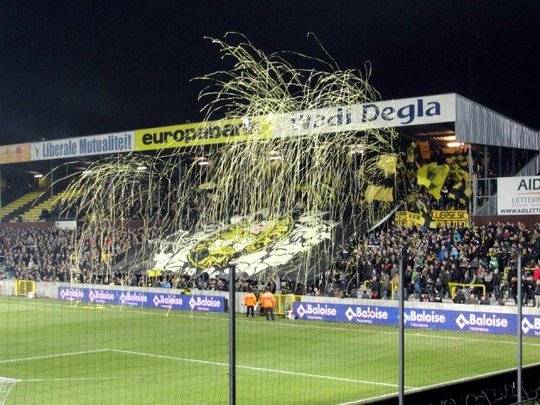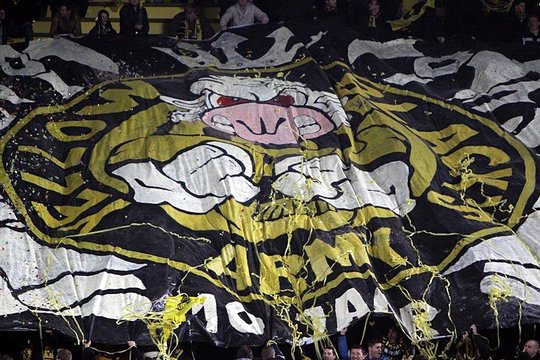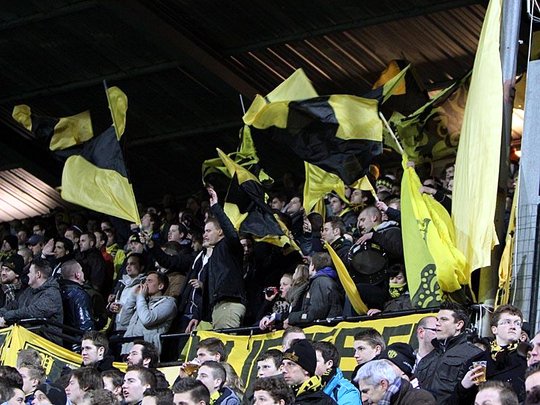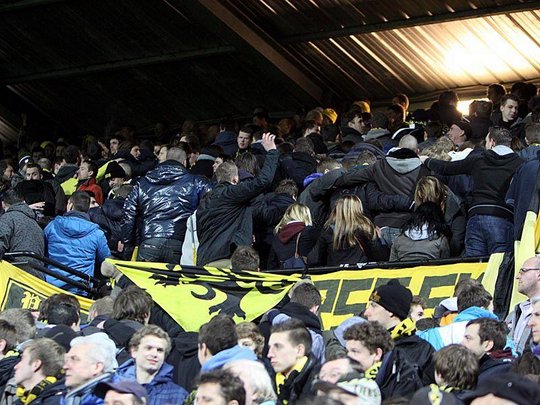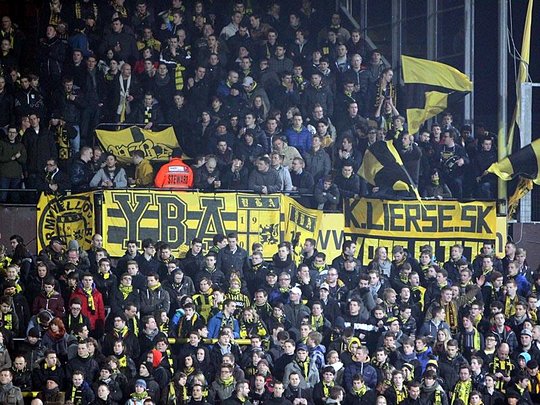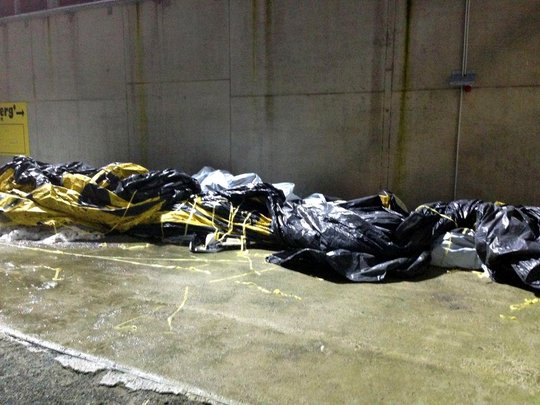 The sad story of every nice tifo...
> How was the supporter scene of Lierse SK before Yellow Black's Army were founded?
Lierse was always known as 'Lierke Plezierke' (It's a Flemish saying for 'City of fun') ; a team with loyal fans and a great positive atmosphere. Their 'kop' was always big and respected because of his positive support. Going to watch a game at Lierse was a nice trip which you could do with friends and fellow supporters. It has the atmosphere of a small club with great history. Supporters always traveled with +- 1000 to any stadium. Better than some 'top 5 clubs'.
There was a group before YBA called "Wild Side" but due to police repression they stopped their activities in 2003. Hereafter YBA was founded as 'ultra-movement' and PCL (Pallieter Casuals Lier) as hooligan firm.
> How is the supporter scene of Lierse SK today?
Yellow Black's Army cannot be easily categorized into English or Italian fan style. We take accents of both types of supporting and try to create an own identity. We do however have a strong, clear line of thought that has formed the backbone of the organization from the very beginning.
The only other group in the stands is PCL who can be seen as the hooligan firm of Lierse. There are no problems whatsoever between the two groups. Both focuses on another way of supporting the team.
> Are Yellow Black's Army politically oriented?
From a political point of view, we find ourselves to be positioned right of the political spectrum, which is expressed as a strong Flemish nationalistic awareness. This results in banners and tifo's which show the Flemish Lion or other links to Flanders as the Dutch-speaking, northern part of Belgium. Being nationalists, we are in favor of the Flemish independence, and therefore the split between Flanders and the French-speaking, southern part of Belgium.
This political attitude also influences the amount of enemies we encounter. Apart from the regional derbies and rivalries, we also have teams from the French-speaking part of Belgium who simply dislike us because of the nationalist track we follow. The most well-known examples of this phenomenon are the supporters of Charleroi and Standard Liège. During the first years of YBA, a banner was even put in the stands when Lierse went to play Standard at their ground, saying: "Let's kick communism out of football", to piss off the left-wing Standard supporters and also to mock the "let's kick racism out of football" campaign. Another time, a banner saying "Belgium is breaking apart" was shown during a game against Charleroi. Nowadays, we try to express ourselves less radically, and only use the Flemish flag as a matter of expressing our love and pride for the Flemish heritage.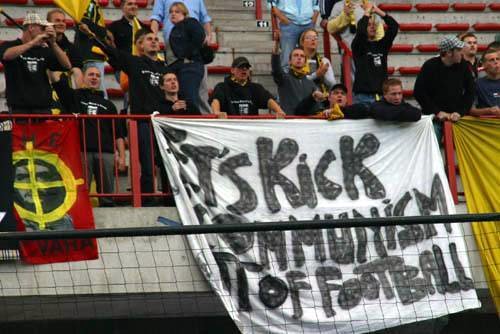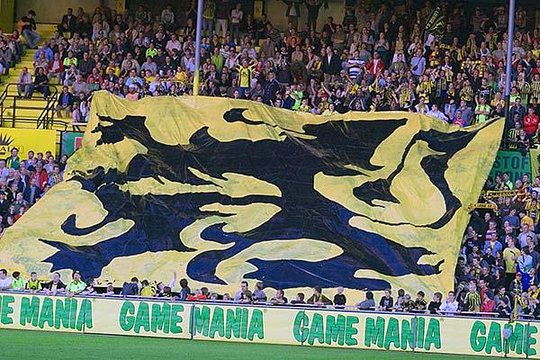 > What has been the biggest challenge for your group during these 10 years?
This year, YBA celebrates its 10 year anniversary. During these 10 years Lierse has been through some harsh times, ranging from an almost bankruptcy, over a bribery scandal to a relegation to the second division. Despite these sufferings and negative events, YBA always supported Lierse unconditionally, through thick and thin. Since 3 years, Lierse is now back at the top level of Belgian football and the financial situation gradually improves step by step.
Lierse has never been one of the top teams in Belgium, such as Anderlecht or Bruges, but still holds an impressive record of titles and championships, can count on a loyal, numerous following of fans and has a history of 106 years. This is why one sometimes refers to Lierse as "The country's biggest small club"!
This year however, there are lots of disputes between the fans and the board because the fans see the tradition of our club in jeopardy. This resulted in a unseen Facebook-war between the president (an Egyptian investor) and the fans. This was widely spread by national media and affected the general view towards our club by outsiders. Nowadays lots of fans stay at home to show their dejection of the policy of the club board. The atmosphere in the stands is much more violent and a polarization has emerged. Last game only half the stands were filled even it was a derby!
> In what kind of relations are you with your clubs board today?
Since the new owner of the club (an Egyptian holding) there are more struggles with the board because there is no room for criticism. 3 years ago we did a protest against the moneyspending and bad transferpolicy of the club, which was been seen by the president as a personal attack where he called a vendetta against YBA. The owner tried to ban some fans from the stadium because of criticism towards the management. Also people where called racist just because they are against the regime and the owner is Egyptian.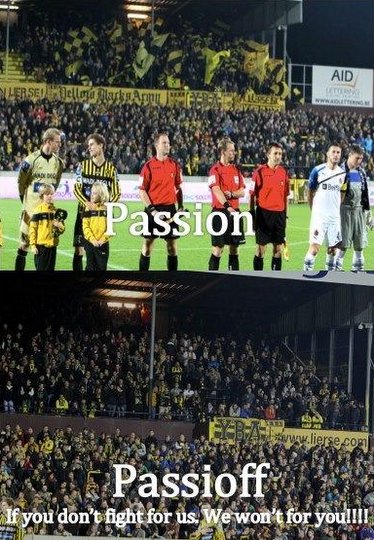 This year YBA stayed neutral in the protests against the board. There is almost no representation in the stands (no banners) and no choreo's or flags. (Difference between pictures) But it seems that the problems we spoke of 3 years ago are not manageable anymore for the board. Great debt, bad team and maybe a ticket to second division.
> Who are your enemies?
Within the city of Lier, a second football team exists (Lyra), with whom a bitter rivalry existed long ago. Some decades ago, Lyra also played in the first division but has fallen down the hierarchy long ago and is playing in the lower regions nowadays. This caused the rivalry to steadily drain away.
During local derbies, it's mainly the games against archival YRKV Mechelen that can cause quite some tensions. This team is from the Province of Mechelen and has evolved into "enemy number one" during the last couple of years, and this is very much mutual. This rivalry was inflicted when KV Mechelen was filing for bankruptcy at the start of this century and Lierse supporters waved banknotes to the Mechelen supporters during the game. Up from that moment in time, the mutual hatred only got worse, day after day. Every derby match Lierse fans try to damage Mechelen's stadium and pitch by stealing the center spot (in Belgium this is seen as a triumph towards enemies).
> Do YBA have any friendships with other groups?
No, we stand by our own. Of course there are some friendships with other persons of other groups, but this is not official or a position of the whole group.
> What do you mean is the best Tifo your group has ever made?
It's difficult to choose between your 'children' but our tifo's home against Standard de Liège and Mechelen were one of the biggest we made.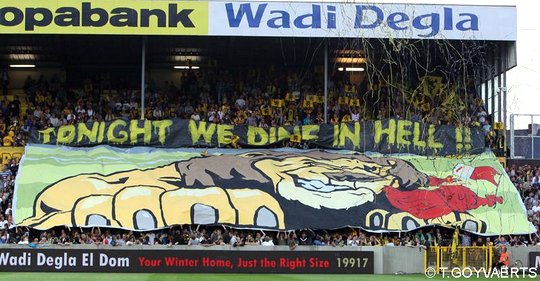 (standard home)
(against Mechelen at home)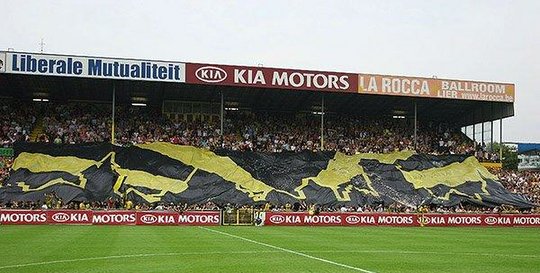 > What is the situation in Belgium regarding the law and repression? Are there special laws for supporters?
As in other parts of Europe there is a special law for football fans. Pyro is forbidden, as flagpoles larger than 1,5m, as 'provocative' songs and gestures, a lot of the time people are banned because they "incite hate and anger", but sometimes one gets the impression that this is just a very vague description to give the police the possibility to ban people from the stadiums.
Also pyro is forbidden but frequently independent people bring it to the stadium.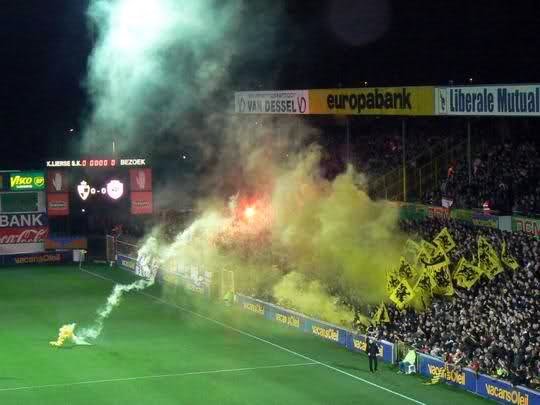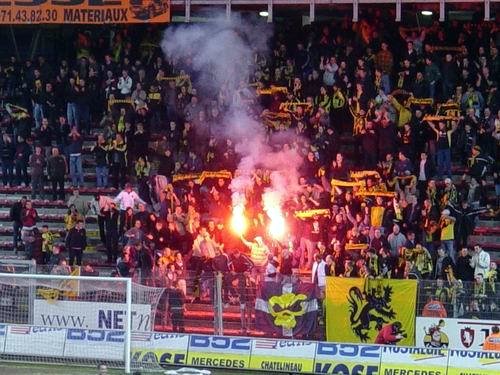 > 10 years gone already, will there be 10 more years with YBA?
As far as we are concerned, we will be here for at least another 10 more years. A new generation is ready to continue the way forward as set out by our first generation. Meanwhile, we hope the problems with the board will not escalate any further and that, in the end, we will witness Lierse to stay the club we always loved before .
Thanks a lot to Yellow Black's Army for answering our questions, and good luck to them during the next years!
Visit their home page: www.yellowblacksarmy.be