Season review: Western Sydney Wanderers (Australia) 2012/2013.

Season review: Western Sydney Wanderers (Australia) 2012/2013.
The 2012-2013 season of the A-league marked the introduction of the Western Sydney Wanderers. The newest addition to the Australian competition also spelt the beginning of the Red and Black Bloc (RBB). The RBB made an instant impact on the Australian active support scene, often being described as the countries #1 group.

Western Sydney marks Australia's most multicultural region, so it was only natural that this was represented in the terrace. Because of this, contrasting influences from South America and the Balkans have dominated the supporter style of the RBB.
Season review:

Round 3 was the first derby played between Western Sydney and Sydney FC at the Wanderer's home ground, Parramatta Stadium. The choreo was the first detailed card display in Australian history.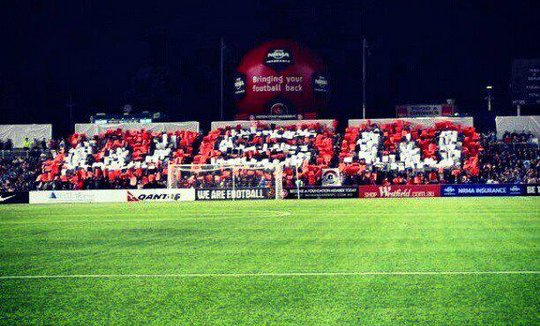 The second derby against Sydney FC was away, and the performance by the RBB was recognized by commentators, journalists and fellow fans as the RBB dominating The Cove, the supporter's group of Sydney FC.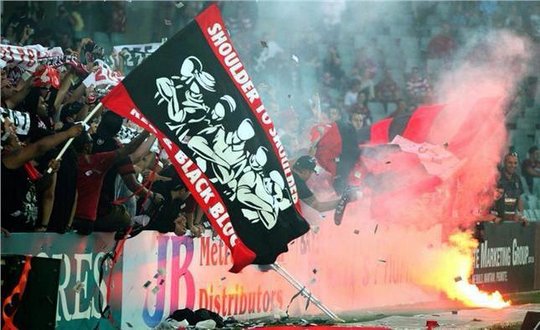 The match in Melbourne against the Victory was the first interstate trip that the RBB had done in numbers. This was the first time in Australian history that an Away Club has gone interstate and sold out it's allocated section. Over 1000 fans travelled 900km's from Sydney to Melbourne.

Pre-game and pyro show at kick off.

By March, problems began to emerge with security company Hatamoto. They are the main instigators of problems in the terrace and because of them many brothers have received bans unjustly. We staged a 20 minute silent protest to 'voice' our anger against Hatamoto and the Football Federation of Australia. The video shows in the 19th minute, regular scarfers on the side terraces of Parramatta Stadium chanting RBB in support of us and our protest + cross terrace chanting.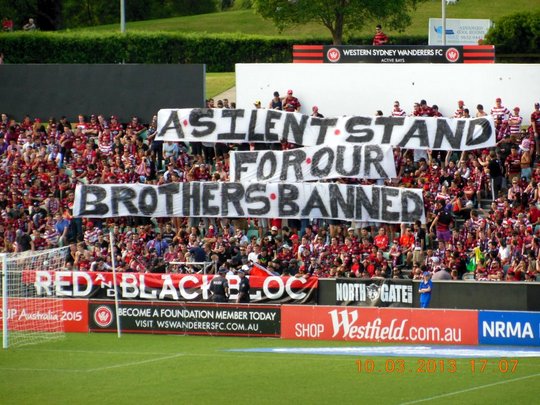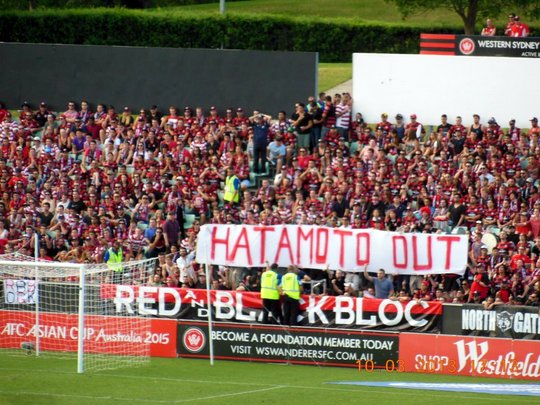 The match against Newcastle Jets was the final round of the regular season, with Western Sydney needing a win to secure the Minor Premiership. We took 10,000 fans 2.5 hours north of Sydney to secure the Minor Premiership.

10,000 Person Poznan/Grecque Celebration

Terrace Interplay

Semi-Final vs Brisbane Roar

This match guaranteed our place in the Grand Final against the Central Coast Mariners.

Goals, Cross Terrace Chanting and a 19,000 Stadium Wide Poznan/Grecque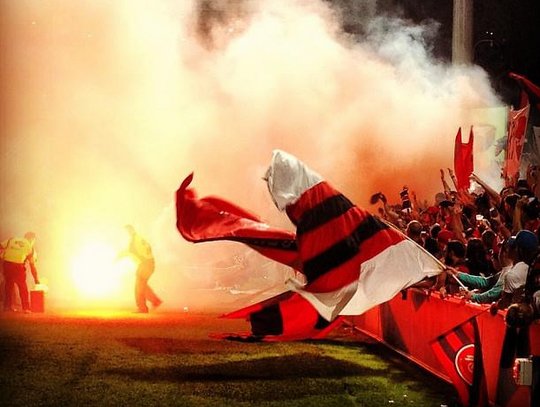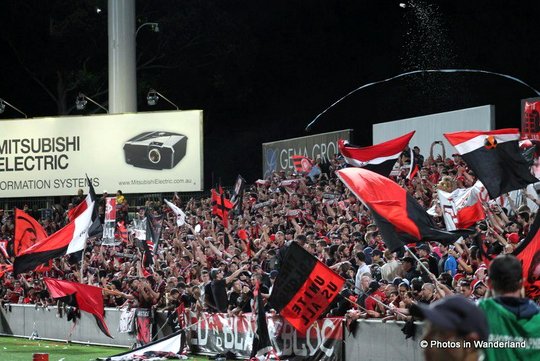 Grand Final against Central Coast Mariner's, held at Sydney Football Stadium (Sydney FC's home ground)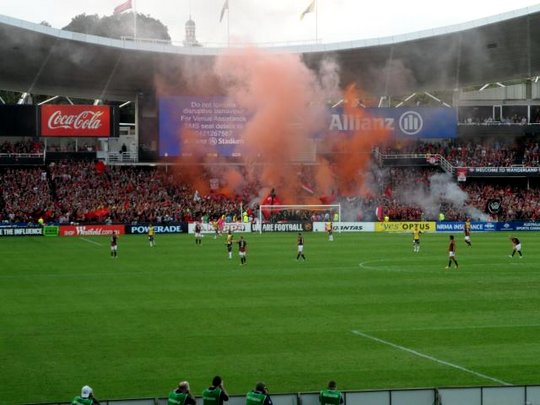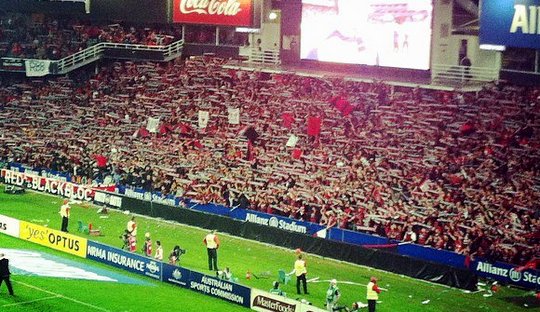 Losing 2-0 with 10 minutes to go and we do a 30,000 person Poznan/Grecque
And 200 presents for our friends at Sydney FC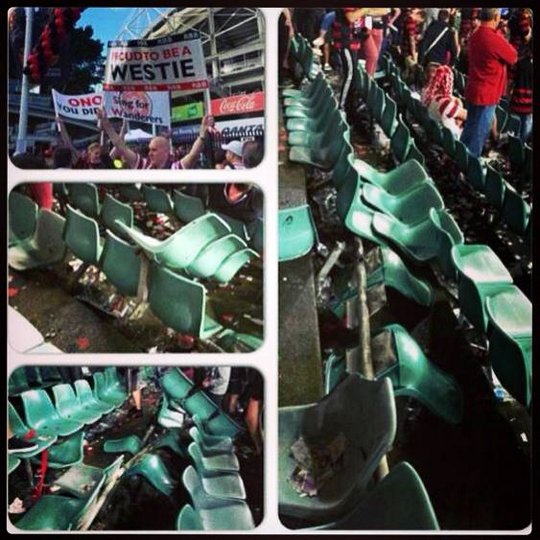 To finish off a wonderful first season was the capture of the banner of Sydney FC's Casual Crew, the Harbour City Service.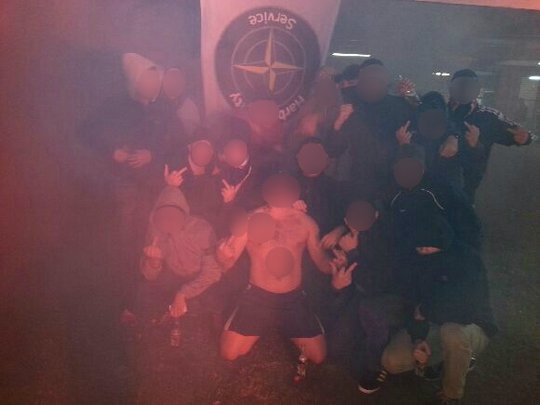 Other random images: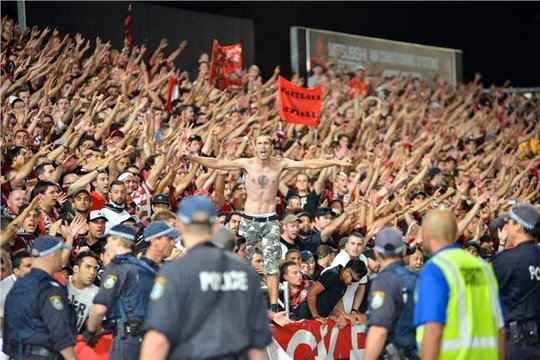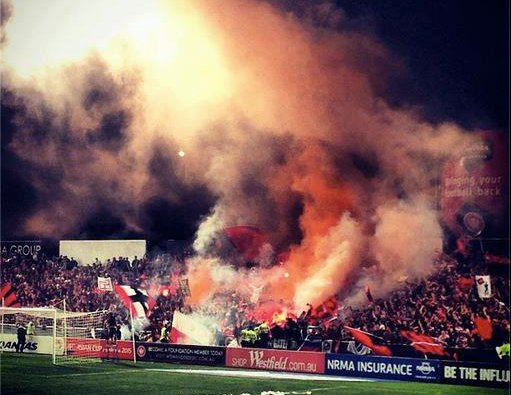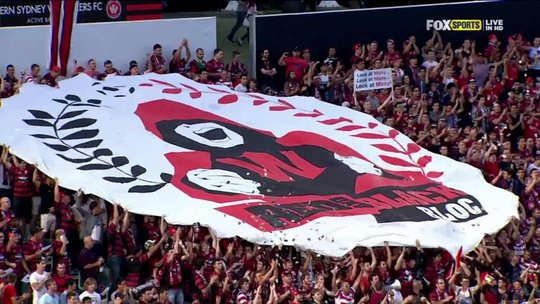 Thanks to our member Minimalistix for this report!